It's an uncommon person who dislikes vacations and travel. Even a short walk to a nearby town or a weekend spent at a country hotel where you can take in the local pastoral scenery while eating home-cooked meals is a perfect way to relax and clear your mind. That is why vacations are so common among college students. Vacations are all the more necessary for college students because they deserve a break and have fun and pass their time stress-free.
If you are looking forward to going on a vacation, be it with family, friends, or cousins, we have rounded up some of the best destinations to travel to for your vacations. Some of these vacation spots are popular ones, but these places are to be experienced during your college days as a student to make the most of them. Enjoy reading through the article to know more about the best vacations for college students.
Amsterdam
Even if many parents are wary of letting their children loose in a city with such a salacious reputation, Amsterdam is high on most students' lists of places to see. The good news is that you won't have to care much about money. If you're on vacation, there's plenty to do in Amsterdam. Late April marks the King's Birthday, mid-November has the International Documentary Film Festival, while the summer sees both the Grachtenfestival and Gay Pride. Be prepared for big crowds and nonstop enthusiasm if you visit Amsterdam on those days.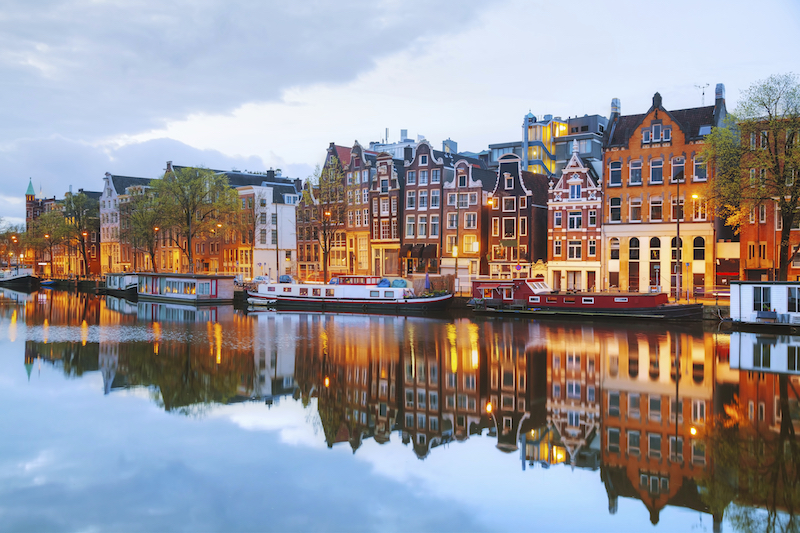 Dallas- Fort Worth
Students should feel good wearing local footwear at the Fort Worth Stockyards or Billy Bob's honky-tonk because cowboy boots are still in style. Never worry if you don't have a pair of shoes. Dallas–Fort Worth is no exception to the rule that all is bigger in Texas. Since it is the state's largest metropolitan area, you can be confident that the suburbs can keep you busy on your holiday. When the weather is mild and the parks are blooming with flowers, spring is one of the best times to visit Dallas. There are plenty of tourist spots such as the Amon Carter Museum, you can also see the spring blooms at the Dallas Arboretum, take a tour of the Dallas Museum of Art, and many more such fun activities.
San Juan
Puerto Rico is still touted as a budget-friendly vacation destination, and students will save even more money during the summer. It should be simple to find a room in Old San Juan, and students would have convenient access to the beach and the city's historical sites. Puerto Rico has everything you'll need for a great vacation. Aside from the obvious—the beach—most college-age kids find it easier to get into all the parties, nightclubs, and bars because the legal drinking age is 18 years old. There are hotels in San Juan to fit any budget, from shoestring to silver spoon. There are a variety of low-cost accommodations available, including Airbnb, hostels, and apartment rentals.
Denver
Sure, the Mile High City has a reputation for being a comfortable stopover for Rockies adventurers, but students looking for entertaining, cost-effective summer vacation should pay attention to Denver. This city has plenty of activities for younger visitors, from doing roller coasters at Lakeside Amusement Park to watching a baseball game at Coors Field. The United States Mint in Denver is one of only four coin-producing facilities in the country. They could even get lucky and come across some massive piles of solid gold bars. The famous Denver Botanic Gardens is a great place for students to spend the day. Guided tours start at $3.50 per student and are designed to have the best possible experience for the group depending on their age. These are just some of the attractions that Denver has to offer among many.
Florence
Florence has a prestigious reputation as the birthplace of the world-famous Uffizi Gallery, which is deserving of its artistic status. Fans of MTV's Jersey Shore know that finding a spot to party after the sun sets on this Tuscan city is no problem. Florence is a fantastic city, particularly for history and art buffs, as it played a significant role in the Renaissance. It's also the birthplace of multinational luxury brands like Gucci, Pucci, and Roberto Cavalli, and the city's most powerful fashion family—the Ferragamos—has applied their famed sense of style to four hip hotels around town, bringing fresh life to the city's once-stale lodging scene.
Charlotte
Charlotte, North Carolina, is often ignored by students looking for the ideal summer getaway, but this should not be the case. From cheering on the raging rally cars at the Charlotte Motor Speedway to taking the roller coasters at Carowinds, this Southern city has everything for everybody. Meanwhile, fans of the hit film The Hunger Games can spend their time touring the show's locations. If you want to add a little nature to your urban getaway, Lake Norman, about 30 minutes north, has plenty of outdoor fun. Zootastic Park and Lazy 5 Ranch, both in the Lake Norman area, offer zoo and safari-style adventures.
Paris
Visiting Paris during the student years is one of the best times to do so. With one of the world's biggest student communities, there's always plenty to do in Paris! It can't be any less interesting if you're here for a weekend, a semester, a year, or more. As a college student in Paris, going out for a night on the town is a rite of passage. The city is very diverse, and there are many choices available regardless of your budget! The Latin Quarter is particularly common among Parisian college students, especially those on a tight budget. Go to the bars along the Champs-Elysées for a glitzy Parisian night out. Classic bourgeois glamour and designer boutiques can be found in Paris, as well as grim corners and impeccable street art. In general, there's a lot to see and do here – particularly if you're a college student!
Albuquerque
Albuquerque is one of New Mexico's most populated cities, noted for its rich cultural diversity, authentic art, and vibrant traditions. You can go for a hot air balloon ride (Albuquerque is the world's ballooning capital), take a tram up to Sandia Peak Tramway (the world's highest aerial tramway), or visit the Science Center and Children's Museum. Students can love a summer trip to Albuquerque if they can stand the sun. Temperatures in the 90s hold the crowds at bay, allowing younger visitors to take advantage of a plethora of offers, as well as the city's spicy food and vibrant nightlife. With round-trip fares from major U.S. airports averaging $320, students would have plenty of money left over for a smoky barbecue.
Dublin
Tourism in Ireland normally begins in Dublin, and with good cause. Dublin is Ireland's urban core, with all of the country's charm and contemporary happenings. Trinity College, the St. James' Gate Brewery, and St. Patrick's Cathedral are all located here. Take a stroll around the sprawling and majestic Phoenix Park before stopping by one of the several historic pubs for a pint. Dublin, home of the world-famous Guinness Brewery, knows a thing or two about pubs. You won't be able to walk down the main street without coming across a traditional or new Irish pub.
Phoenix
In Phoenix, Arizona, your student travel holiday will be filled with outdoor activities and wild adventures. Phoenix does not seem to be a desert area, with its vast metropolis, memorable museums, and scores of resorts. It is, however, located in a Sonoran Desert valley surrounded by cactus-covered mountains and hills. Due to its perfect weather and world-class resorts and spas, Phoenix, also known as the Valley of the Sun, has become a popular winter destination. However, the natural scenery, which includes hiking trails, Native American ruins, and tropical wildlife, will make your college vacation more exciting.