Seeking work can be as daunting as a college graduate. In order to obtain more expertise in their profession, often people take internships while in college, or they even earn money as a graduate assistant. But if there's no expertise for you, where do you start? There are still options for you to begin your career if you don't have professional job experience after college. Most firms hire entry-level workers for jobs that require a limited amount of training. Once you know the roles open to you, the better it would be to join the workforce.
Many recent graduates find it useful to look at what people are doing in their position while pondering over certain questions. By interacting with your college peers, leveraging the tools of the career services office of your degree, and even dipping your toe into job review sites, you can do that. But, in the meantime, we have listed below ten of the best jobs for college graduates with no experience. Read on to gain some insights if you are confused or looking for opportunities to start off your career. Wishing you good luck!
Software Engineer
As the industry pushes to enhance diversity, technology roles are among the top growing roles. New graduates from a broad range of backgrounds are drawn to software engineering roles. On the list of the top 15 companies hiring the most U.S. graduates, Microsoft, IBM, Google, and Oracle are but don't feel like you're limited to household names. Both within and outside the technology industry, there are many great businesses that need your skills. This is an exciting and dynamic field with lots of growth opportunities, from learning about end-user needs to translating those needs into code and coordinating the build-out and testing of large software projects. Salaries start at $83,000, well above a fresh graduate's average starting salary.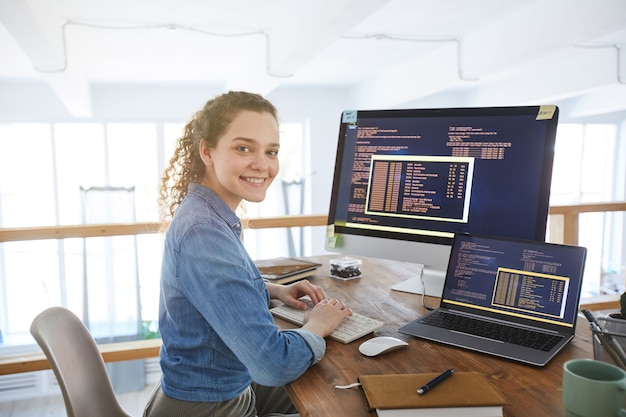 Registered Nurse
For all expertise levels, the healthcare sector has numerous options and employs plenty of new graduates. As the U.S. is expected to face a shortage of nurses led by the demands of the ageing population of Baby Boomers, Registered Nursing is among the top sectors that are likely to expand until 2026. For the latest graduates who are open to doing 12-hour days, nights, and weekends, hospital positions are there. Traditional nine-to-five nursing jobs at family medical offices and schools are also available, as well as travel options that may be amazing for young professionals. Salaries begin at 58,400 dollars.
Salesperson
Sales-centred jobs get a bad rep, but they can be a perfect way to create critical skills that pay dividends regardless of what you want to do next. The anxiety of talking to other people, learning how to cope with rejection, discovering the balance between convincing and pushy, and practising deep listening, there is no easier place to get over this than this job. Sales positions are extremely complex, and in sales professions, nearly all sector needs professionals. Salaries start at $31,100, but depending on the type of pay that comes with a particular job, they may be higher or lower.
Teacher
A space for unruly youngsters, challenging parents, stringent accountability standards imposed by school districts, but they can also be immensely rewarding, it is clear that teaching jobs come with many obstacles. With both public and private schools reassessing their approach to education, implementing emerging technology, and adapting classes to train students for the ever-changing future, young learners are poised to make a real difference. Salaries usually begin at 40,000 dollars.
Accountant
It's not for pocket protectors alone! Accounting is a diverse field, and experts in all fields can take their own path. Of the top five businesses hiring the newest hires, three out of the four are top auditing firms, so you don't have to restrict yourself to audit and tax alone. The heart of every business is money. Understanding an enterprise's financial backbone will set you up for career achievement for a lifetime. To get you started in most staff accounting roles, a bachelor's degree in management, accounting, or finance is enough. If you intend to receive a CPA certificate (and make the higher pay that comes with that well-recognized certification), so you will need a master's degree or its counterpart.
Project Manager
A job in project management is a crash course in risk management, stress tolerance, and diplomacy, from finding and clearing bottlenecks to maintain the flow of information in cross-functional teams. These are diverse jobs and can also be performed online, so note should be made by recent graduates who are searching for the freedom to work from anywhere. The versatility and the future opportunities of these positions can be impressive after you get through the initial hurdles. You can get to experience and collaborate with several different individuals as a perk, gain recognition and develop a world-class professional network as well. Entry-level earnings start at $57,500, but you could receive $90,000 or more with a few years of experience and a PMP certificate under your belt.
Administrative Assistant
An administrative assistant begins to make a salary of about $35,400, while pay ranges differ based on the variety of duties and level of experience. This will be a great first step on the way to developing your resume, researching an area that you are passionate about, or having insight into how corporations function. Good organizers and effective communicators are the perfect administrative assistants, calm under pressure, and quick to resolve or prevent unforeseen issues. If you are interested in working as an assistant for your long-term career, you could earn a seat at the boss' table and a high salary by being an executive assistant to a high-ranking CEO, movie producer, or attorney.
Accountant Executive
An account executive is a sort of sales job, but, as opposed to taking in new customers, it also puts greater focus on managing current customer relationships. The role of an account executive is to coordinate the client's wishes and expectations against real-world limitations enforced by the company's contract terms, resource availability, and realistic requirements. An account executive job can be a perfect match for you if you enjoy working with people and solving interesting problems, and if you are naturally focused on customer service. Entry-level wages begin at 55,000 dollars.
Financial Analyst
The list of organizations that are looking to employ financial analysts is long and varied: banks, insurers, financial services, consulting firms, healthcare. Your day-to-day tasks will depend on the employer's needs, but most financial analysts begin to create statistical models, analyze data, write analyses, and learn about the needs of those who use the outputs of the findings. Yeah, you will be given an advantage by a head for the numbers, but so will your willingness to dig deep into the reasons why a particular analysis is important, imagination to deliver the details in a convincing manner, and good attention to detail. For entry-level jobs, the annual salary is $59,300.
Account Manager
An account manager can work in a corporate office, visit customers, or fly around to conferences, depending on the company. Your overall aim is to have excellent customer service and overcome any puzzles that occur in the relationship between business and customer. Good account managers are also trained to discover unmet needs and build new market prospects by deepening partnerships with existing clients. Entry-level earnings are about $52,900, and the job will provide a perfect introduction to a sales, marketing, or business development career.