New York City, branded as the city that never sleeps has loads of hidden gems within. The place has tons of upcoming bars and restaurants to choose from. Unfortunately, everyone has their own choice and preference which might not meet your needs.
However, we have come up with a list of the best college bars New York City has to offer. The list is based on parameters like the cost of drinks, its food, the ambience and overall level of satisfaction. We've thrown in a couple of bars with some complex niches for you to try from as well. Hope you enjoy reading the rest of the article while also gathering some valuable information.
The Drunken Munkey
The Drunken Munkey is a throwback style bar to the times of Colonial India. The Drunken Munkey is NYC's first 'craft cocktail' bar where you can craft your own cocktails and enjoy fine Indian cuisine along with it. The Drunken Munkey has one of the best selection of wines, spirits and classic cocktails. It has a large area for the bar and has a lively ambience and atmosphere, overall with good energy. The place has indoor dining and provides heaters for every table. The cuisine served by the bar has gotten amazing reviews from past customers.
The bar provides delivery, takeout and curbside pickup options for its customers. It also has outdoor seating with sit-down dining inside the premises as well. The bar follows social distancing protocol, the whole staff wears masks and gloves, tables are sanitized between customers, contactless payment is available and hand sanitiser is provided at the premises.
The Barcelona Bar
The Barcelona Bar is one of the top-rated joints to visit. They have over 100 different shots to choose from. The environment is light and breezy, perfect to have fun and to unwind for a while. They have a great selection of beer and other cocktails but it is their themed shots that take the limelight. Those themes shots come with props and music, depending on which one you choose, i.e. Star Wars shot, Harry Potter shot and many more.
These shots are usually movie or song based and provide a whole different experience altogether. The establishment has a separate bar for shots due to the variety they offer along with a dartboard and a jukebox for you to groove onto. The bar has no outdoor seating but provides free WiFi, good for groups, has reasonable happy hours combos and accepts credit cards. The bar also follows all the safety protocols post COVID.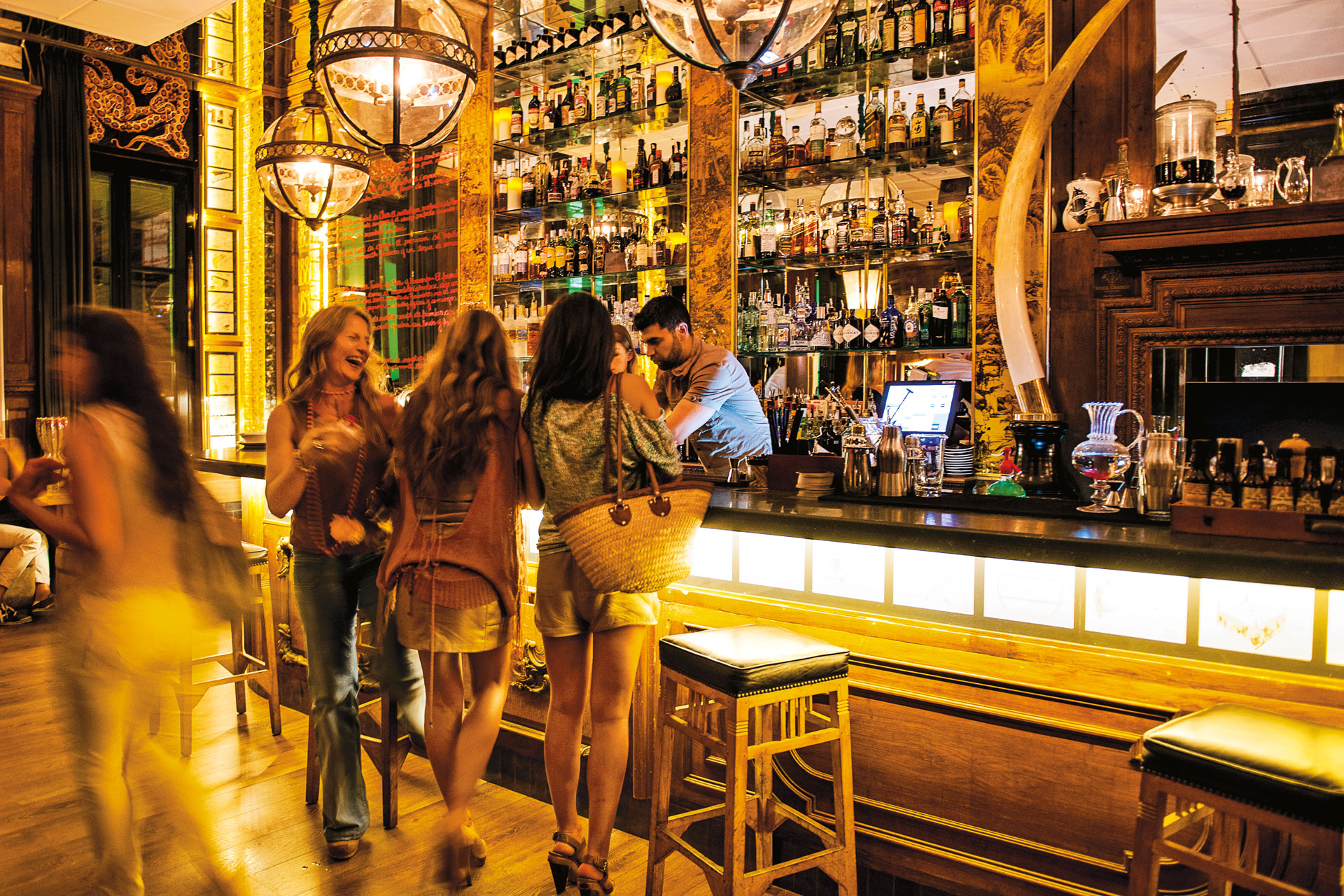 Boobie Trap
The Boobie Trap has a quirky hipster décor, fun games, drink specials and very friendly staff. The place is pocket friendly and has loads of board games you can play or you can choose to play with the bartenders instead that come up with fun ideas.
They have an amazing selection of nutcracker themed drinks and will also provide ramen and hand warmers as you go in. The establishment has no outdoor seating and smoking is also prohibited inside the premises. The bar is wheelchair accessible, accepts credit cards, has plenty of happy hour combos and is moderately loud. The staff wears gloves and masks and follows all social distancing protocols.
Henry's Rooftop Bar
Henry's Rooftop Bar is atop the Roger Smith Hotel and provides a beautiful view of the city with a relaxed and fun atmosphere to let your hair down. The bar has quite a selection of drinks to choose from with some great food to go along with it. The bar is neat and clean with outdoor seating and allows smoking. It is also wheelchair accessible and is ideal for smaller groups of people due to limited tables and seating. The bar also provides free WiFi.
Local 138
The Local 138 Bar has reasonable prices, good drinks and good people in a relaxed atmosphere. The bar also has a back room available for private parties and events for up to 50 people. It also provides you with two private booths that are also available for up to 15 people each.
This bar has been in the neighbourhood for years and has been the choice of pub for many students due to its affordable drinks and good ambience. The staff is extremely friendly and follow all social distancing protocols wearing masks and gloves constantly. The bar provides free Wifi, has to gender neutral restrooms and has happy hour specials as well. It isn't wheelchair accessible and does not provide outdoor seating.
Cheap Shots
As the name suggests, Cheap Shots has a variety of shots to choose from at extremely affordable prices with chill vibes and good music to go along with it. They have themed days such as taco Tuesday and many more which give you a whole different experience altogether. The bar will also serve you free shots till 12 midnight if it's your birthday.
The amazing food coupled with good music and reasonable drinks make this one of the top choices for students. The bar has outdoor seating available along with an indoor dining option as well. The staff wears masks and gloves and follows all safety protocols as well. The place is ideal for larger crowds.
At the Wallace
At the Wallace is a staple of the neighbourhood with affordable and delicious burgers and cocktails, they are a great choice whether you're looking for a date spot or to catch up with friends. The establishment has outdoor seating with sports on TV, pet friendly and is LGBTQ friendly as well. The place lets you order off-menu as well which a lot of other establishments do not offer. The bar also has a photo booth at the premises as well. The food 'At The Wallace' has received excellent reviews online as well and also provides takeout & delivery.
Keybar
An East Village neighbourhood bar with indoor & heated outdoor cabana service, enjoy the beautiful heated outdoor cabana at the Keybar. The bar has a DJ Lounge, happy hour bar, birthday party destination while still offering free shots for birthday party offers.
The Keybar has 12 quality drafts, more than 30 signature cocktails including spicy hot drinks, shots and their famous Rolo shot for you to choose from. The bar has a cool and fun atmosphere and the owners make sure to keep the place lively and buzzing by partnering up with well renowned DJ's from the industry.
Off the Wagon
Off The Wagon is home to great drinks 7 days a week with loads of cocktails, beers and other beverages to choose from. It is a traditional sports bar with live sports on TV in HD and plenty of fans around cheering for their team.
The bar is ideal for large groups, has gender-neutral restrooms, a full bar and ample of street parking along with free WiFi. The bar is not wheelchair accessible and does not provide outdoor seating and is generally loud due to the bar being jam-packed most of the nights. The staff follows social distancing protocols and wears gloves and masks at all times.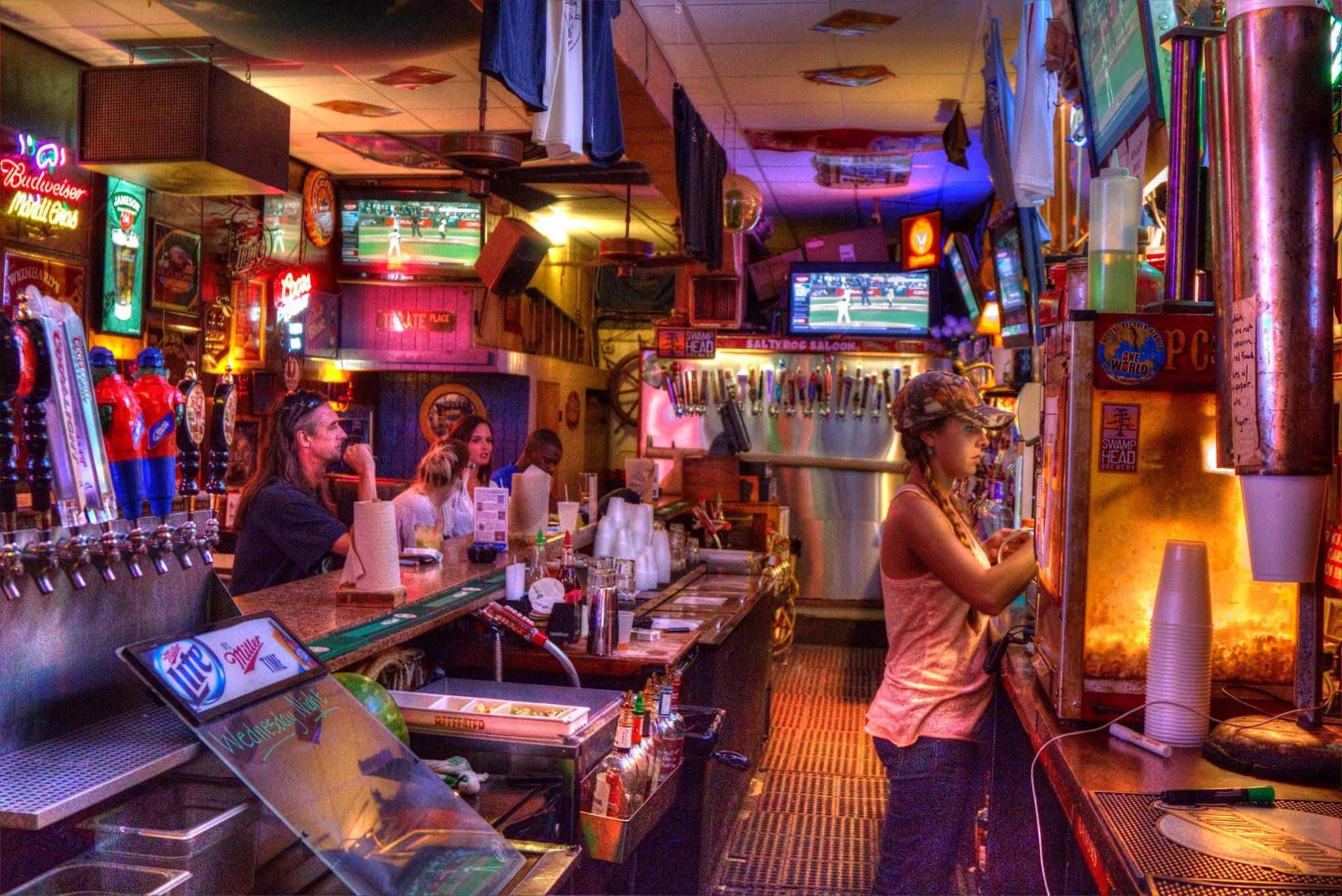 The Flying Cock
Don't let the name throw you off. Even during the pandemic, The Flying Cock had exceptional service with amazing food and great drinks to go along with. The bar takes reservations, provides takeout and delivery, has outdoor seating and is also wheelchair accessible. The bar is moderately loud, with free WiFi, has vegan options which a lot of other establishments do not offer. The bar is perfect for larger groups and ideal for lunches & brunches.