Are you looking for the best college towns in California? The Golden State has it all, from glistening coastal seas to wild forests, as well as work prospects and colleges. Though California as a whole is a desirable destination, deciding where to call home can be difficult, particularly for incoming college students who must consider the college experience as well as the local vibes. With over 200 colleges and universities in California, there are several choices to choose from, but only a handful can be called the best college towns.
All educational institutions, as well as the towns in which they are located, have their own specialities, whether it's biology, nursing, theatre, or business. If you want to explore a major city on weekends or live in a small farm town with a slower pace of life (or a combination of the two), California has the perfect university town for you. When you think of California, you're typically picturing one of the state's big cities. Though there are many cities that might be considered top college towns, only a few small university towns sound like home right away. For those who despise the possibility of moving and trying to establish new roots in a new area, the prospect of permanently living in a college town may be reassuring. Here are ten of the best college towns in California that will charm your way throughout.
Arcata
Arcata, located far north in California, is a welcoming town for free spirits, bohemians, and nature lovers. Since it's such a walkable place, you won't need a car right away if you don't already have one. Spend time on campus, remain in the dorms or surrounding housing, visit Arcata Scoop for some of the finest ice creams, and spend Sundays at the Plaza for the full experience. Spend the remainder of the days camping in the redwood mountains, enjoying one of the several nearby beaches, or slacklining with your classmates.  Arcata is one of the most isolated small towns in California.
Claremont
Claremont, situated in the eastern suburbs of Los Angeles, has a charming atmosphere. You'd never guess the town was so close to some of Southern California's most famous attractions. This location provides the perfect mix of city and suburban life, and it's close to Mount Baldy, making it extremely convenient to go on a weekend trail run. If the city's location wasn't enough to entice you, Claremont is home to seven colleges, each of which provides a small-college feel while also offering the facilities of a major institution.
San Luis Obispo
San Luis Obispo (SLO) is a secret treasure on California's Central Coast. SLO is a quintessential California beach town, tucked inland from the unincorporated coastline of Avila Beach near Montana de Oro State Park. SLO is a popular tourist destination with the famed Bubblegum Alley, as well as several museums and outdoor leisure options, providing plenty of excuses for your friends and family to visit. Some of the colleges in this quaint town are California Polytechnic State University (aka Cal Poly), Cuesta College, Laurus College San Luis Obispo.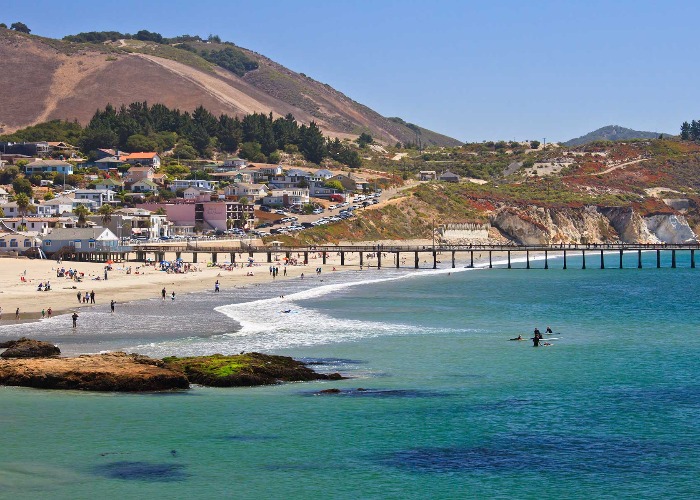 Rohnert Park
A verdant wonderland of fields, forests, and beaches lies to the north of the San Francisco Bay Area, creating a nature lover's paradise. This Sonoma County location is known for its distinct beauty—and its phenomenal cheese—and is a perfect spot to get away from the hustle and bustle of the city without going too far away. Since Rohnert Park is just an hour away from San Francisco, there's still plenty to do on weekends and on school holidays.
Los Angeles
Los Angeles, which is home to hundreds of colleges and universities, has an area of study for any interest. With convenient access to all of Southern California's finest sights, cramming four years full of adventures and memories is a blessing. Learn to surf at the best spots in L.A., enjoy incredible food from a variety of cuisines, and immerse yourself in Social culture by visiting the best art galleries and museums.
San Diego
If you enjoy year-round sunlight, watersports, and being around people who really care about where they live, San Diego may be the spot for you. With so many things to do, from sailing lessons and zoo tours to museum visits and fantastic coffee shops, this sprawling city is brimming with possibilities. Cross the bridge to Coronado, explore the city's various neighbourhoods, and prepare to walk around in flip-flops on a regular basis in this maritime locale.
San Francisco
San Francisco delivers a one-of-a-kind atmosphere that you won't find anywhere else. There's still something going on and so many neighbourhoods to visit and so many things to do. With generally high living prices and a very urban environment, San Francisco is well-suited for extroverts and minimalists who aren't looking for a lot of personal space; the city is all about being out and about. Remember to carry a sweater with you at all times, as Karl the Fog is known for changing the weather on a dime. There's no better way to explore anything different than the Bay Area, with so much to see and do from Sausalito to Benicia to Half Moon Bay and beyond.
Malibu
Every day in Malibu feels like a holiday. This town is an oasis, with breathtaking views and constant beach vibes. Despite the fact that Malibu feels distant from city life, it is relatively close to Santa Monica, Thousand Oaks, and Los Angeles, bringing anything within easy reach. Without ever wandering too far off from Malibu, you can go surfing and rock climbing, wander the surrounding sand dunes, walk, find something new in L.A., and visit the Santa Monica Pier. Celebrities frequent this place, so keep an eye out for your favourites while studying in the local coffee shops and eateries or relaxing on the beach.
Chico
Chico, located in Northern California near the Mendocino, Lassen, and Tahoe National Forests, offers a unique Golden State experience—and it's because of these quirks that it's one of the best college towns to live in. While the town's warm and friendly spirit helps you feel at home, the town's outdoor adventures, delicious snacks, and unbeatable National Yo-Yo Museum all make Chico a great place to visit. If you're thinking of settling down in Northern California, this is a place you should think about.
Santa Barbara
Santa Barbara, situated on the coast between San Luis Obispo and Los Angeles, is a stunningly beautiful place to live and learn. There's still a fresh outdoor experience to be found nestled between the green Los Padres National Forest and the rugged coastline. Although there are many opportunities to enjoy your college experience here, there are still many things to do after you graduate. On the Central Coast, there are plenty of museums, parks, gardens, and boutiques to enjoy, as well as delicious restaurants to try.