The bar scene in Philadelphia is booming. There are a few bars in the city that attract a significant amount of college students, whether right around campus or in Center City. These locations are a perfect way for friends and classmates to play a game or just hang out. While Philly is home to many colleges and universities, the quintessential "college bar" has been built by just a few campuses. A spot where undergraduates go to make memories and graduate students and alumni go to restore them.
After finals, these are the places where you go to get tanked, and places to rejoice after a school victory in a sport. Upenn's University City dominates the list as it was the first true "college town" developed in Philly. Other popular campuses do, though, make a cameo on the list.
If you are looking to chill or party all night after all your college woes have gotten over, these ten college bars are the place for you to hang out in or visit.
City Tap House
You have to imagine plush bars and fancy eateries on and off-campus when you envision an Ivy League institution. Well, UPenn did a fine job attracting University City to City Tap. Although City Tap looks more like it belongs to a suburb in Anytown, USA, it somehow manages to merge right into the Walnut St. strip. With plenty of seating, the interior is light and airy. The food selections are good and the options for drinks are much better. The chic outdoor seating complete with fire features is what sets this location apart from other places. With unique nights like quizzo night and live entertainment, City Tap still does a fine job of entertaining.
Blarney Stone
Speaking of Philly's Top 10 College Bars, how could this staple in University City be left out? Drexel children often visit Blarney Stone which is also considered to be a "Penn kid" spot. Blarney is a no-frills college bar well known for its amazing quizzo nights on Tuesdays and more than moderately priced cocktails. This room can get cramped really easily, but that's the true experience of college. While a typical extension of the university is more like this place in the way of decor, Blarney offers wifi and cool menu choices such as grilled cheese tater tots. Overall, this is the place to be if you are looking for a concept college lounge.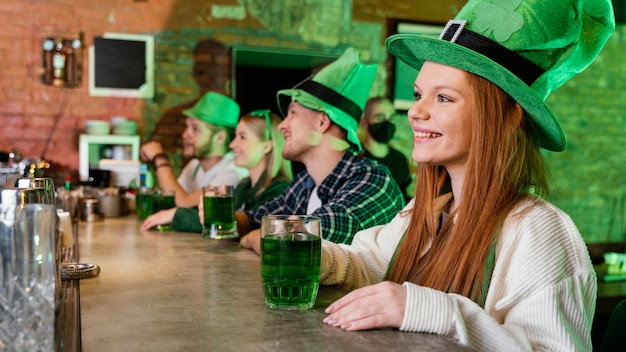 Masters
Masters has all the equipment to be the "man on campus." When you step in, you are greeted by a cool first floor with a bar, huge TVs, and plenty of seating. The core group is upstairs with an extra kitchen, a large dance/party room, seating, and a cool lounge corner with large TVs and cosy couches. This will certainly be the place that will lure promoters from college parties to host fun shindigs. It would also be a magnet for non-college students if this position lives up to its promise. In the attempts of Temple to build a festive and more enticing campus, Masters marks another step.
Landmark Americana
The place of Landmark on Drexel's campus is situated in the heart of the food truck alley but retains its own. A cool thing is how this bar opens up to the patio, where for nighttime socializing there are many outdoor seating and fire features. Provided that the bar scene around St. Joe's is rather dry, the flagship place on St. Joe's campus is certainly the guy on campus. Landmark has a cool festive vibe and excellent opportunities for drinking and dining. If you want to throw back a couple of cold ones, it's probably the go-to place.
Drinker's West
Drinkers have a lot of things going for them. There's cheap food, cheap drinks, and it's very spacious. This is a place where children from Penn & Drexel can cram in and get an almost frat house atmosphere. The gloomy atmosphere of this bar makes it a great place to socialize with young college socialites anytime they want to forget about school work. It's still a pretty good spot to watch sporting events and there are plenty of places to get a good view and some of the best in town are the daily drink deals.
New Deck Tavern
This place is where the students of Penn & Drexel go for a laid back atmosphere. Although this place can get a little crowded from time to time, it's normally more of a chilling atmosphere. For a bar, think burgers and chips, the food is pretty normal, but it's the range and price of drinks that draw customers in. New Deck is also another perfect location for friends to watch a sports event or drop in for a friendly night of quizzo.
Draught Horse
You had to set foot inside the Draught Horse if you were to attend the cherry & white house. It's still nice to see familiar spaces with the recent renovations and additions underway at Temple and the Draught Horse offers some kind of warmth. This place provides a solid range of beers as well as a fairly spacious atmosphere. While the food is on par with the norms of the college pub, it is still one of the best restaurants to sit across campus. There truly is never a boring moment at this spot with niche nights like "White Girl Wednesdays".
Smokey Joey's
Unassuming daytime pizza joint and nighttime classical college dive bar. This is Upenn's undergraduate go-to-spot. No fancy features, no fancy flames, no fancy courtyard, just great drinks, and a lively atmosphere. It is possible to find DJs and live music here to churn out tunes almost every night. Again, this is not a list of the best bar foods, but the pizza here is pretty good. Other menu options are more than serviceable. Overall, this is the place to be if you want the traditional noisy frat party feels off-campus.
Mad Mex
For college students, tequila, margaritas, burgers, and burritos are all tempting. And you have a recipe for success if you put a spot that serves up this winning combination. In the heart of University City, Mad Mex is a break from the "typical college bar" and offers a cool Mexican feel. The food is good, and even better are the drinks. Mad Mex knows how to party, so usually, this place is very noisy and pretty packed. As a side tidbit, some of the best wings in town are actually served up in this location.
Pub Webb
What was once a hole in the wall on the cusp of Temple's campus, one class at a time, was steadily winning over Temple students. You'll find teachers, graduates, and locals mingling here with cheap drinks and an intimate atmosphere of the dive bar. Live music, however, shapes this venue as local talent delivers the vibes you need to make your visit to Pub Webb a memorable one.