If you're heading abroad for the academic experience, you'll be interested to know that these institutions are some of the best in the world. Whether you're considering a bachelor degree or the Master degree program, we're here to help you explore top-ranked affordable academic colleges worldwide.
To provide a closer look into the world's best colleges, we've listed the top academic colleges in our methodology that based on rankings of the Times Higher Education World University.
Start the search for your future education right away! Discover our complete list of top academic colleges & universities worldwide & choose the best one for your education. Good luck!!
University of Oxford (United Kingdom)
Are you looking for an exceptional education in an environment which values individuals for who they are? Oxford might be the place for you. Oxford University is one of the most prestigious universities in the world which have more than 23,000 current students from over 140 countries. It is a collegiate research university located in Oxford, England offers a wide range of degree courses to suit your areas of interest. Over 300 graduates taught and research degrees are available in a diverse array of disciplines. Oxford's Department for Continuing Education runs over 1000 courses per year, offered on a part-time basis.
To be a member of the university, all students, and most academic staff, must also be a member of a college or hall. There are 38 colleges of the University of Oxford and six Permanent Private Halls, each controlling its membership and with its own internal structure and activities. Not all colleges offer all courses, but they generally cover a broad range of subjects. The colleges and the University work together to organize teaching and research, and many staff at Oxford will hold both a college and a University post. If you are a Home (UK) or EU student undertaking your first undergraduate degree, the tuition fee for 2018 will be £9,250.
Ranking: 1st
Acceptance Rate: 17.5%
Tuition & Fees Approximately: Varies according to the programs
Admission Office Contact: Telephone: +44 1865 270000, Fax: +44 1865 270708
Website: http://www.ox.ac.uk
University of Cambridge (United Kingdom)
The University of Cambridge is one of the world's oldest universities and leading academic centers, and a self-governed community of scholars. Cambridge is formed from a variety of institutions which include 31 constituent Colleges and over 100 academic departments organized into six schools. Each College has its own internal procedures. They select their own students, subject to University regulations, and most admit both undergraduate and postgraduate students.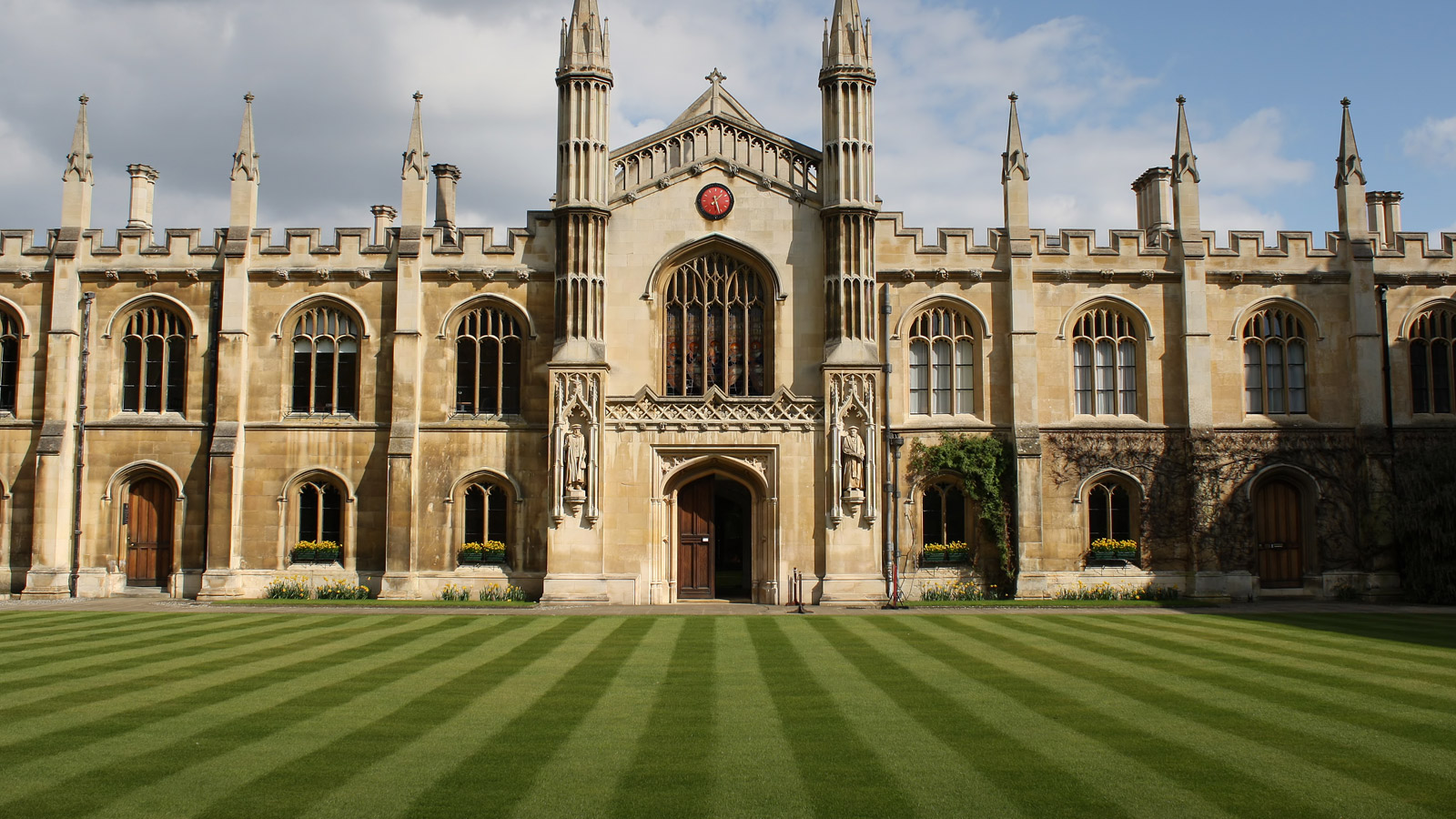 There are six Schools: Arts and Humanities, Biological Sciences, Clinical Medicine, Humanities and Social Sciences, Physical Sciences, and Technology. There is a Council of each School – including representatives of its Faculties and Departments. University Faculties organize teaching and research into individual subjects or groups of subjects. Their work is normally organized into sub-divisions called Departments.
Ranking: 2nd
Acceptance Rate: 21%
Tuition & Fees Approximately: Domestic: 9,250 GBP, International: 21,732 GBP
Admission Office Contact: coreweb@admin.cam.ac.uk
Website: http://www.cam.ac.uk
California Institute of Technology (United States)
Established in 1891, the California Institute of Technology (Caltech) is ranked as one of the world's top-ten universities. It is a private doctorate-granting research university known for its strength in natural science and engineering. The mission of the California Institute of Technology is to expand human knowledge and benefit society through research integrated with education. The Institute is organized into six primary academic divisions: Biology and Biological Engineering, Chemistry and Chemical Engineering, Engineering and Applied Science, Geological and Planetary Sciences, Humanities and Social Sciences, and Physics, Mathematics, and Astronomy.
Caltech is a small four-year, highly residential research university with a slight majority in graduate programs. Caltech offers 24 majors and six minors across all six academic divisions. The graduate instructional programs emphasize doctoral studies and are dominated by science, technology, engineering, and mathematics fields. The Institute offers graduate degree programs for the Master of Science, Engineer's Degree, Doctor of Philosophy, BS/MS and MD/ Ph.D., with the majority of students in the Ph.D. program.
Ranking: 3rd tie
Acceptance Rate: 8%
Tuition & Fees Approximately: $49,908
Admission Office Contact: (626) 395-6811
Website: http://www.caltech.edu
Stanford University (United States)
Stanford University is accredited by the Accrediting Commission for Senior Colleges and Universities of the Western Association of Schools and Colleges (WASC). It was founded in 1885 by California senator Leland Stanford and his wife, Jane, "to promote the public welfare by exercising an influence in behalf of humanity and civilization." You can explore the more than 65 major fields of undergraduate study at Stanford. Stanford students create and apply knowledge by thinking and doing, preparing for leadership in a rapidly changing world. The university is organized around three traditional schools consisting of 40 academic departments at the undergraduate and graduate level and four professional schools that focus on graduate programs in Law, Medicine, Education, and Business.
Today, more than 9,300 master's, doctoral, and professional degree students are pursuing graduate degrees in all seven of Stanford's schools. The schools of Humanities and Sciences (27 departments), Engineering (9 departments), and Earth, Energy & Environmental Sciences (4 departments) have both graduate and undergraduate programs while the Schools of Law, Medicine, Education, and Business have graduate programs only.
Ranking: 3rd tie
Acceptance Rate: 4.8%
Tuition & Fees Approximately: $50,703
Admission Office Contact: 650-723-2300
Website: https://www.stanford.edu
Massachusetts Institute of Technology (United States)
The Massachusetts Institute of Technology (MIT) is traditionally known for its research and education in the physical sciences and engineering, but more recently in biology, economics, linguistics, and management as well. Founded in 1861, it is a private research university located in Cambridge, Massachusetts, United States. It has some 1,000 faculty members, more than 11,000 undergraduate and graduate students, and more than 130,000 living alumni. The mission of MIT is to advance knowledge and educate students in science, technology, and other areas of scholarship that will best serve the nation and the world in the 21st century.
MIT has five schools as 1) school of architecture and planning, 2) school of engineering, 3) school of humanities, arts, and social sciences, 4) school of management, and 5) school of science and has more than 30 departments and programs, an education at MIT covers more than just science and technology. MIT offers 44 undergraduate degrees across its five schools. MIT offers a comprehensive doctoral program with degrees in the humanities, social sciences, and STEM fields as well as professional degrees.
Ranking: 5th
Acceptance Rate: 7.9%
Tuition & Fees Approximately: $49,892
Admission Office Contact: 617-253-1000
Website: http://web.mit.edu
Harvard University (United States)
Harvard is the oldest institution of higher education in the United States that was established in 1636.  The university offers 46 undergraduate concentrations (majors), 134 graduate degrees, and 32 professional degrees. The four-year, full-time undergraduate program comprises a minority of enrollments at the university and emphasizes instruction with an "arts and sciences focus".
Harvard offers a comprehensive doctoral graduate program, and there is a high level of coexistence between graduate and undergraduate degrees. The university has graduate or professional schools of medicine, law, business, divinity, education, government, dental medicine, design, and public health. The total 2018-2019 cost of attending Harvard College without financial aid is $46,340 for tuition and $67,580 for tuition, room, board, and fees combined.
Ranking: 6th
Acceptance Rate: 5.4%
Tuition & Fees Approximately: $44,990
Admission Office Contact: Tel: (617) 495-1000
Website: https://www.harvard.edu
Princeton University (United States)
Princeton is one of the top universities in the world. They empower you to discover your interests and pursue your passions while studying at Princeton. Their undergraduate and graduate programs emphasize learning, creativity, innovation, and collaboration. Founded in 1746, Princeton is the fourth-oldest institution of higher education in the United States. The university provides students with a range of academic resources and a support network of faculty and staff to support their success. Princeton provides undergraduate and graduates instruction in the humanities, social sciences, natural sciences, and engineering.
Princeton offers professional degrees through the Woodrow Wilson School of Public and International Affairs, the School of Engineering and Applied Science, the School of Architecture and the Bendheim Center for Finance. It is a global institution, and there are vast opportunities to learn and pursue research beyond the University's campus. Geographically extensive programs offer Princeton students and scholars many ways to connect.
Ranking: 7th
Acceptance Rate: 6.5%
Tuition & Fees Approximately: $50,723
Admission Office Contact: (609) 258-3000
Website: https://www.princeton.edu
Imperial College London (United Kingdom)
Imperial College London is the only UK University to focus entirely on science, engineering, medicine, and business. Their international reputation for excellence in teaching and research sees us consistently rated in the top 10 universities worldwide. It has talented staff members who put their full energy and passion into their work and are committed to excellence. At ICL, you can choose from over 100 undergraduate courses in areas ranging from aeronautics to biology and geophysics to medicine. Imperial has close to 150 Master's courses and a wide range of research opportunities, all supported by an extensive program of professional development.

It is one of the leading research colleges or universities in England. Imperial offers an education that is research-led, exposing you to real-world challenges with no easy answers, teaching that opens everything up to question and opportunities to work across multi-cultural, multi-national teams. Upward of 15,000 students attend Imperial, and tuition costs are higher for non-European Union students. Housing is guaranteed for first-year undergraduates, and a limited number of rooms are available for returning undergrads.
Ranking: 8th
Acceptance Rate: 14.3%
Tuition & Fees Approximately: 9,250 GBP
Admission Office Contact: Tel: +44 (0)20 7589 5111
Website: http://www.imperial.ac.uk
University of Chicago (United States)
One of the world's great intellectual destinations, the University of Chicago empowers scholars and students to ask tough questions, cross disciplinary boundaries, and challenge conventional thinking to enrich human life around the globe. The academic bodies of the University of Chicago consist of the College, five divisions of graduate research, six professional schools, and the Graham School of Continuing Liberal and Professional Studies.
The College of the University of Chicago grants Bachelor of Arts and Bachelor of Science degrees in 51 academic majors and 33 minors. The university graduate schools and committees are divided into five divisions: Biological Sciences, Humanities, Physical Sciences, Social Sciences, and the Institute for Molecular Engineering. The university contains seven professional schools.
Ranking: 9th
Acceptance Rate: 7.9%
Tuition & Fees Approximately: $54,825
Admission Office Contact: 773.702.1234
Website: https://www.uchicago.edu
ETH Zurich – Swiss Federal Institute of Technology Zurich (Switzerland)
ETH Zurich – Swiss Federal Institute of Technology in Zurich is one of the world's leading universities for technology and the natural sciences. It is a science, technology, engineering, and mathematics (STEM) university in the city of Zürich, Switzerland. ETH students were found to be the busiest students of all institutions of higher education in Switzerland. The school was founded by the Swiss Federal Government in 1854 with the stated mission to educate engineers and scientists, serve as a national center of excellence in science and technology and provide a hub for interaction between the scientific community and industry. ETH Zurich offers an internationally attractive range of study programs.
The Master's programs at ETH Zurich provide more in-depth and/or specialist knowledge and lead to a degree that qualifies students for a profession. At ETH Zurich, students discover an ideal environment for independent thinking, researchers a climate which inspires top performance. ETH Zurich is ranked among the top universities in the world. Typically, popular rankings place the institution as the best university in continental Europe and ETH Zurich is consistently ranked among the top 1-5 universities in Europe, and among the top 3-10 best universities of the world.
Ranking: 10th tie
Acceptance Rate: NA
Tuition & Fees Approximately: CHF 580 (~US$585) per semester
Admission Office Contact: admissionoffice@ethz.ch. +41 44 633 82 00
Website: https://www.ethz.ch/de.html