We all recognize and seek beautiful full hair, radiant skin, and strong nails, as we understand these as the key site of the body which reflect our health. Eating a balanced diet and living a healthy lifestyle is a good start, but sometimes it takes more than just that. You might also want to consider an extra boost targeting these areas, by trying some of the top beauty supplements now available.
Taking these supplements can result in hair growing thicker, faster, stronger and longer, whilst also improving the skin and nails. We are here to help you determine the best options for inside-out health to complement the topical products you use.
There are many products to choose from and it is a challenge to know which ones will actually work and are worth putting your effort and money towards. Here we have done the work for you and identified the top products for supporting healthy hair, skin, and nails. We have sifted through reviews and recommendations so you can make a confident choice and determine the most suitable product for you to become your best glowing, healthy self. These products are great for both men and women.
Let's start by looking taking a moment to look at how your body looks after your hair, skin, and nails. It is also a very good idea to do a little research into what you are putting in your body and have some understanding of why you would want to use any of these products to support your beauty goals.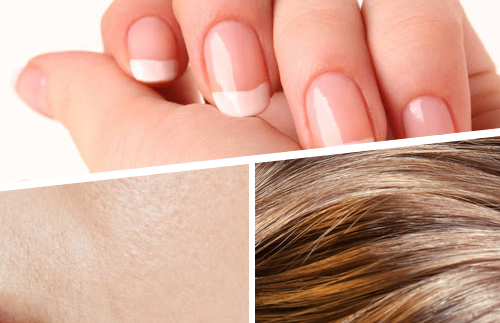 There are three main proteins involved and linked to healthy hair, skin, and nails. – collagen keratin and elastin.
You have probably heard of these and know that our bodies produce these very well when we are younger but due to numerous factors including hormonal changes, they are produced less as we age.
You may have also seen them promoted in various beauty treatments which can be used topically.
Generally, these target the skin and provide at best only temporary improvements.
However, unfortunately, the solution is not as simple as just ingesting these proteins either. Instead, what these supplements offer is a way to support the underlying body systems which produce these proteins within our own body. A good supplement can assist by providing the essential nutrients for nourishing your hair, skin, and nails from the inside out.
We have focussed here on the outstanding six products which users consistently swear by as pretty much the best product they have ever discovered for their hair, skin or nails. These are the real world recommendations. 
BioSil
Biosil specifically targets promoting the growth of collagen and preventing its breakdown. It contains a unique formulation of Silicon and Choline, as ch-OSA or choline-stabilized OrthoSilicic Acid. The Biosil website says it is "clinically proven to 'turn on' the cells in your body that generate collagen", and also says it increases Keratin and Elastin too.
It gets a 4.2-star review on Amazon, with about 70% of users giving it 5 stars. Many users report a reduction particularly in fine lines in the skin, which makes sense as collagen helps plumps out the skin.
This product is highly recommended, but you might need to also consider other supplements which contain additional nutrient support, such as vitamin C, B, zinc, and biotin.
Biotin Maximum Strength Tablets 10,000 mcg
This is a top selling product on Amazon, with more than 12000 reviews. About 8000 of those reviews give the product 5 stars, so there is a lot of satisfied customers using it, which gives you confidence in the choice. Many reviewers are posting images of themselves showing improvements in only a couple of months. It is mainly promoted as a hair growth supplement, but it can also improve your skins and nails, as well as give you an overall energy boost.
Biotin is also known as Vitamin K or B7. This product gives 10000mcg of Biotin, which is about the strongest on the market. This is definitely going to give you a big dose of this important nutrient which has been linked to maintaining healthy hair, skin, and nails. They are designed to take one tablet a day. Some users reported an increase in acne, so that might be something to keep an eye on with this high-dose product.
This product is also 100% vegetarian.
Nature's Bounty Extra Strength Hair Skin Nails
The advantage of this supplement is that it contains a range of nutrients together which support hair, skin, and nails. It contains not only 5000 mcg of Biotin, but also Vitamins, A, C, E and Hyaluronic Acid. If you look at the ingredients you will also see a list of many other vitamins and essential minerals which makes it a good multi-vitamin supplement. Additionally, this one is infused with Argan oil.
You will see it gets a 4.4-star rating on Amazon, and that about three-quarters of reviewers give it 5 stars. Many reviewers claim the product stopped the hair loss they were experiencing.
HairAnew (Unique Hair Growth Vitamins with Biotin)
HairAnew is another supplement which is a good multivitamin containing a range of nutrients with a focus on hair, skin and nail support. As well as containing a 5000mcg dose of biotin, it has vitamin C, Niacin, Kelp, Ginkgo Biloba, vitamin E, vitamin B-6, and Pantothenic Acid. HairAnew capsules are sugar-free, unlike most gummy style products.
You can trust this product which has been on the market since 2014 and has almost 6000 Amazon reviews and the 4.3-star rating.
Sports Research Biotin 5000 Mcg with Coconut Oil 
This biotin product is vegie soft gels, which is a best seller. It is a solid product at a reasonable price. It amazingly has more than 8000 reviews on Amazon and achieves an overall 4.4 stars. Reviewers consistently show results they are happy with and claim very fast hair growth.
Sports Research claims it is the only Non-GMO Project Verified Biotin soft gel available. They also offer a 90 money back guarantee – so it is really a very easy decision to try this product.
The only caution is this product contains coconut oil, it should be avoided by people who have any sensitivities to coconut.
PHYTO PHYTOPHANÈRE Hair and Nails Dietary Supplement
Phyto Paris is a brand created from a passion for hair styling and healing power of plants. This is a slightly different product to others here, as contains essential fatty acids from plant oils, fish oil, along with biotin, vitamins A, C, D, E and brewer's yeast.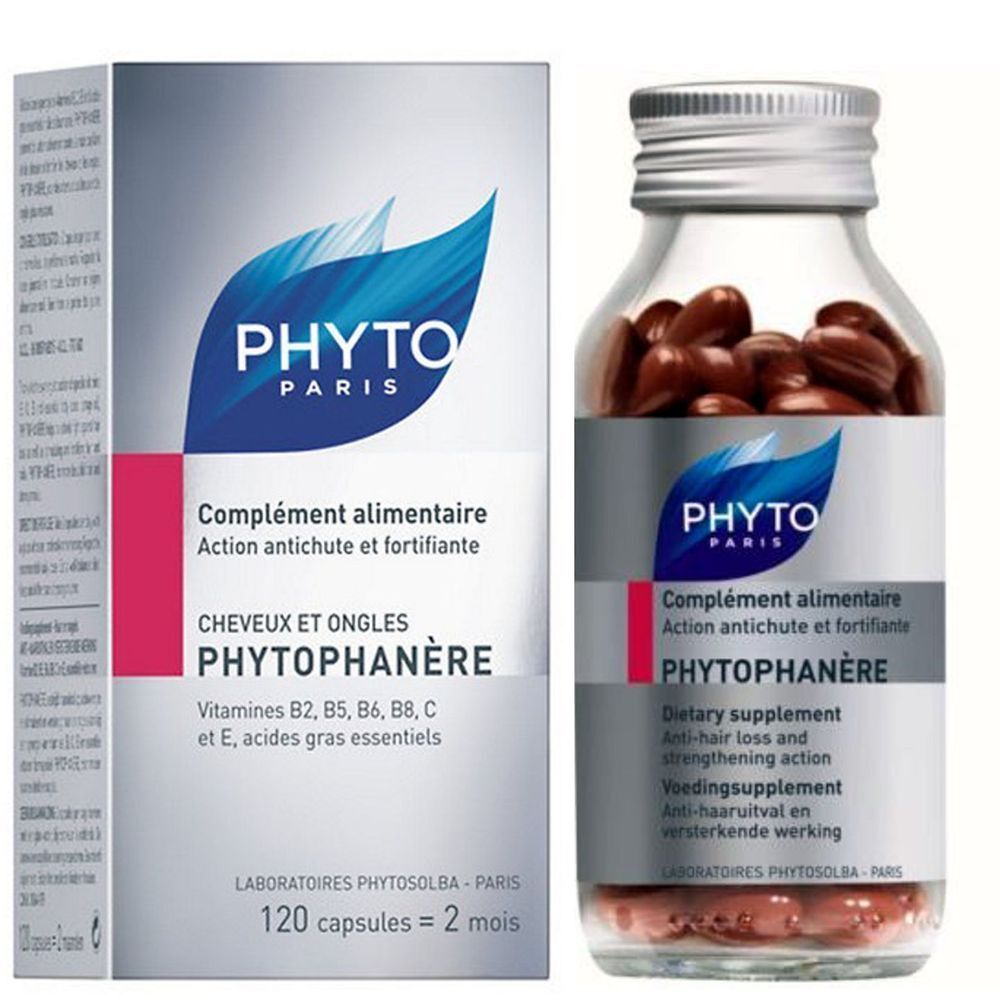 On Amazon, it has a 4.1-star rating, and it receives many top reviews on other hair and beauty websites. There are customers who report some pretty miraculous results from this product and claim it was the one to work for them. Many also report that they notice a huge difference between the times they take the supplement and times when they weren't taking it.
There's a range of shampoos and other products from this company you can also try.