We are going to just say this upfront – developing your emotional intelligence (EQ) is important.
If you need no convincing, are nodding in agreement, eager to get improve your emotional intelligence and gain a more in-depth understanding of EQ, but don't know where to begin, then this article will point you in the right direction.
There is no shortage of articles online which introduce some basic concepts of emotional intelligence – self-awareness, self-management, empathy and, managing relationships – and lay out why it is so important. At some point, it is recommended to go a little deeper though, and for this, there are some great books you can read. Some of the texts on here really are classics and must-reads for everyone.
We have included a range of books on this list, from light-hearted anecdotes, scientific research, to more practical workbooks – something for everyone to improve their understanding and skills of emotional intelligence.
1. Emotional Intelligence: Why It Can Matter More Than IQ (1995)
By Dr. Daniel Goleman.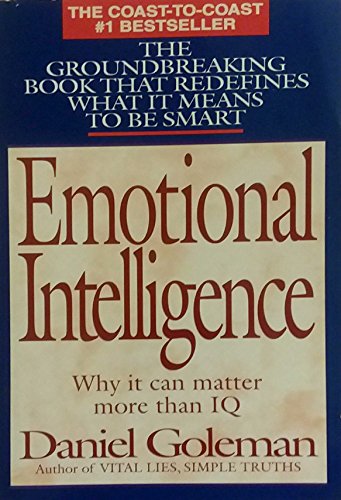 This is *the* classic book which brought the concept of emotional intelligence into the popular sphere. Goleman is a PhD qualified behavioral scientist, who spent many years as a science writer for The New York Times. This book brilliantly brings together psychology and neuroscience and offers insight into our dual nature as emotional and rational beings and how this influence our lives. Being an early book on the topic, it is packed with science and lays out the case why EQ is so important to master, but it is not heavily focused on the practical aspects of how to improve your EQ. Still a highly recommended read.
2. The Language of Emotional Intelligence: The Five Essential Tools for Building Powerful and Effective Relationships (1997)
By Jeanne Segal
This is an excellent and practical resource that will assist you in building better relationships in all aspects of your life. Part reading and part workbook, it presents five useful research-based tools of EQ to help you 'read' other people, make powerful connections and build stronger more satisfying relationships, understand non-verbal cues, defuse conflicts and repair wounded feelings. It has an easy-to-read style, is filled with information, and dotted with self-reflection quizzes and small exercises along the way.
3. Emotional Intelligence 2.0 (2009)
By Travis Bradberry, Jean Greaves, and Patrick M. Lencioni.
This is one of the most well-known books on emotional intelligence and is a best seller with over 1100 reviews on Amazon. It offers a step-by-step approach to using emotional intelligence to improve your life, focussing on the skills of self-awareness, self-management, social awareness, and relationship management. It is a clear and simple introductory book which is much lighter on the data than other books on this list. It also has an online assessment tool that you can use to assess your emotional intelligence.
4. Go Suck a Lemon: Strategies for Improving Your Emotional Intelligence (2012)
By Michael Cornwall
This book takes a far less academic approach and is light-hearted and more biographical in nature. It aims to provide readers with methods for improving emotional intelligence by offering cognitive skill building techniques designed to help to create a more positive and enriching experience when experiencing emotion. It offers clear, straight to the point explanations of the concepts and then gives real-world examples with practical actions that can be taken. Cornwall focuses on aspects of EQ like controlling emotions, being open-minded, breaking out of emotional co-dependency, and thinking before acting.
5. Emotional Alchemy (2001)
By Tara Bennett-Goleman'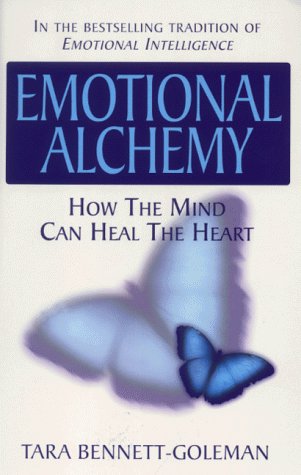 This best selling book is written by Daniel Goleman's wife and brings together neuroscience and Buddhist psychology. It focusses on the concept of mindfulness, which has now also become a very popular tool for cultivating self-awareness, a key component of emotional intelligence. It is a practical book which explains ten basic emotional patterns which can influence our internal lives and how we interact with others, then shows how to identify them and what to do to transform them in positive ways.
6. The EQ Edge: Emotional Intelligence and your success
By Steven Stein and Howard Book
Do you want to know what it takes to be a successful cop, lawyer, CEO, firefighter? This book contains numerous case studies which show some surprising insights into what it takes to excel in various professions. It also lays out what the top EQ factors are across many different kinds of jobs, from customer service reps to HR professionals. But, this book also offers practical advice on increasing your own Emotional Intelligence., and you will discover new ways to build stronger relationships, excel at work and increase your leadership skills, and, feel more confident.
7. Your Brain at Work: Strategies for Overcoming Distraction, Regaining Focus, and Working Smarter All Day Long (2009)
By David Rock
Rock uses examples of a typically busy working couple and various situations in their lives to point out and explain how our brain works and responds to the challenges of living. He shows particularly where the brain has limitations, such as getting tired and distracted easily. He then offers some very pragmatic evidence-based strategies to overcome these limitations and to survive in an overwhelming work environment, succeed and feel energized. One big idea he talks about is that attention changes the brain.
8. Thinking, Fast and Slow
By Daniel Kahneman
Daniel Kahneman  (winner of the Nobel Prize in economics) explains how our thinking happens through two basic systems: system 1 is fast, intuitive, and emotional, whilst system 2 is slower, more deliberative, and more logical. He exposes some problems of fast thinking and explains ways that we can use emotion to make better decisions. It is packed with fascinating information about why we think the way we do, and will definitely get you thinking about thinking.
9. Working With Emotional Intelligence (2000)
By Daniel Goleman
Another book by Goleman. He has filled this one with fascinating case histories from across the world of work and hundreds of organizations from around the world. The basic message is that time and time again at all levels of business it is those people with highly developed emotional intelligence who succeed. If you enjoy reading tales of triumphs, disasters, and dramatic u-turns from the perspective of emotional intelligence, then this is a compelling read.
10. The Oxford Handbook of Compassion Science (2017)
Compassion can be considered as one specific aspect of empathy – a key trait of emotional intelligence. This book appears as recommended reading by Daniel Goleman himself. As he says: 'I feel that everything from politics and policy on down to our personal lives benefits from the attitude of caring for other people around us'. This is the book is a summary of the top research into compassion, countering the idea that it is something which is soft and undefinable.