Are you looking for a school district in Kansas City that you have recently moved into? Or are you a resident who wants to change districts? This article shall help you guide through the best school districts among the many that serve the Kansas City area. These school districts have a number of accolades and are well known to be the best in serving quality education to students.
There are 74 school districts in Kansas City that represent the city's people. Around 19 of these districts, representing over 70 percent of area registrations, were represented in the annual instructional efficiency ratings of over 1,000 school districts nationally by the Expansion Management magazine. At least seven districts in the region received a "gold medal" ranking, the best of the five Expansion Management composite cost-performance groups.
Blue Valley Unified School District
Blue Valley Schools, unified in 1965, covers 91 square miles in sections of southern Overland Park, Leawood, and Olathe in southeastern Johnson County. In several national quality-of-life lists, these cities have been recognized. Blue Valley students identify 90 different languages as their primary home language, with almost 11% identifying a language other than English as their primary home language. Telugu, Spanish, Chinese, Urdu, and Arabic are the top five non-English home languages listed. The district hones 21 Elementary Schools, 9 Middle schools, and 5 High schools. More than 54,000 residential housing units are concentrated at Blue Valley Schools. Around 75% of the homes are single-family residences and 25% are duplexes/condos/multi-family housing. Blue Valley has an average household size of 2.67 residents.
Founded In: 1969
Location:  Overland Park, KS
Ranking: 1
Contact: 913-239-4000
Apply Now 
Blue Springs R-Iv School District
The Blue Springs School District's mission is to promote an educational environment in which each pupil learns awareness, establishes skills, and acts as a literate individual in order to accomplish personal goals. The Blue Springs School District, located in Jackson County on the eastern fringe of the Kansas City metro area, spans 58 square miles and represents students from Blue Springs, Grain Valley, Independence, Lake Tapawingo, and Lee's Summit. A highly trained, diverse workforce of over 2,147 employees is employed by the Blue Springs School District. There are 1,060 accredited employees and 1,087 service employees on board.
Founded In: 1971
Location: Blue Springs, MO
Ranking: 2
Contact: 816-874-3200
Apply Now 
Desoto Unified School District
More than 7,400 students attend the district's 12 campuses, which include seven elementary schools, three middle schools, and two high schools. USD 232 serves approximately 100 square miles of northwest Johnson County, attracting students from De Soto, Shawnee, Lenexa, a part of Olathe, and unincorporated parts of the county. USD 232 has a track record of continuous, meaningful progress and the constant pursuit of excellence. It has created a record of achievement in the consistency of the educational curriculum, policy growth, organizational performance, and co-curricular/extracurricular opportunities for students.
Founded In: 1964
Location: De Soto, KS
Ranking: 3
Contact: 913-667-6200
Apply Now 
Lee's Summit R-Vii School District
The 117-square-mile Lee's Summit R-7 School District is regarded as one of the state's and nation's finest educational districts. Located in the southeast part of the metropolitan area of Kansas City, the district serves the Lee's Summit, Greenwood, Lake Lotawana, and Lake Winnebago communities, as well as the eastern Jackson County unincorporated areas and also contains a limited portion of Blue Springs and Kansas City municipalities. The R-7 School District, which is nationally known for its outstanding instructional services and a dedication to excellence for all students, has a good cause to retain its many new residents. The district currently consists of 18 elementary schools, three middle schools, three intermediate schools, an alternative secondary school, an early education center, a secondary technology academy, and a special-education day-treatment center.
Founded In: 1949
Location: Lee's Summit, MO
Ranking: 4
Contact: https://contact.lsr7.org/
Apply Now 
Liberty School District
In Clay County, Liberty Public Schools serves the citizens of about 85 square miles. The school district serves over 12,500 students in nursery through 12th grade and is located just northeast of Kansas City. In the last 12 years, the district has seen rapid expansion, to the point that it is currently one of the state's fastest-growing school districts. Liberty is family-oriented and lets the community's more than 30,000 people taking pride in being friendly and respectful and keeping a hometown spirit. There are 11 elementary schools, four middle schools, two high schools, an alternative secondary school, and an early childhood facility in the Liberty School District.
Founded In: 1857
Location: Liberty, MO
Ranking: 5
Contact: 816-736-5300
Apply Now 
Olathe Public Schools
Olathe USD 233 is a public unified school district located in Olathe, Kansas, United States, also known as Olathe Public Schools. It is one of the largest school districts in Kansas and one of the biggest school districts in the Kansas City Metropolitan Area. In 1965, with the consolidation of five smaller districts: Countryside, Meadowlane, Mount Zion, Olathe, and Pleasant View, Olathe Unified School District 233 was created. Approximately 66 percent of the district is located within the city limits of Olathe, 19 percent in Lenexa, 8% in Overland Park, 6% in the township, and less than 1% in Shawnee.
Founded In: 1965
Location: Olathe, KS
Ranking: 6
Contact: 913-780-7000
Apply Now 
Park Hill School District
In the Northland portion of the Kansas City Metropolitan Area, the Park Hill School District covers much of southern Platte County, Missouri. There are eight cities and villages, including Parkville, Riverside, Weatherby Lake, Platte Woods, Lake Waukomis, Houston Lake, Northmoor, and Kansas City, Missouri, that are partially or completely within the district limits. The district represents nearly 12,000 students and spans about 73 square miles, making it one of Kansas City's best school districts.
Founded In: N/A
Location: Kansas City, MO
Ranking: 7
Contact: 816-359-4000
Apply Now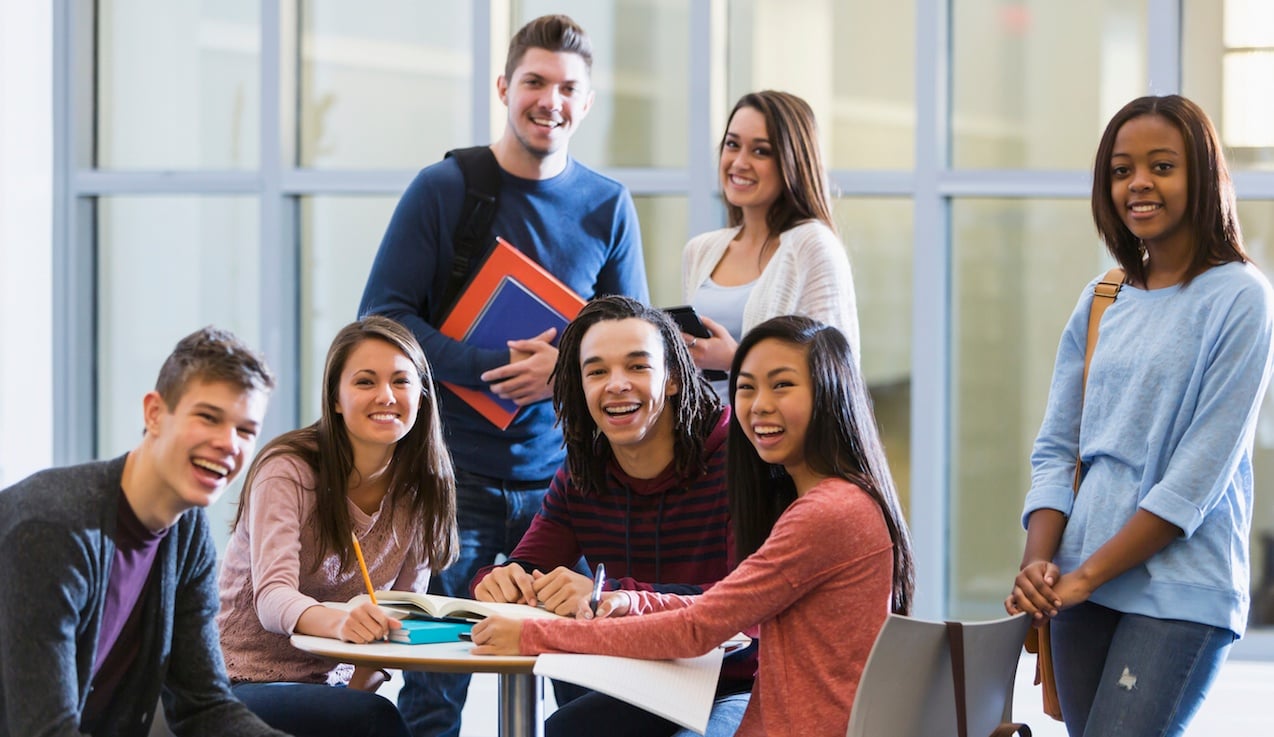 Shawnee Mission School District
The Shawnee Mission School District has been committed for 50 years to providing all children with excellent educational opportunities. The Shawnee Mission School District, with over 27,000 students and 4,300 staff, is the third-largest school district in Kansas. 34 elementary schools, five middle schools, and five high schools make up the district.
Horizons High School, an Early Childhood Education Center, and Signature Programs at the Center for Academic Achievement and the Career and Technical Campus are all part of the district. Through its elevated student success, the district is consistently ranked among the finest school districts nationally. In northeast Johnson County, Kansas, Shawnee Mission represents a diverse student population from 14 cities.
Founded In: 1969
Location: Shawnee Mission, KS
Ranking: 8
Contact: 913-993-6200
Apply Now 
North Kansas City School District
North Kansas City Schools is a nationally recognized school district located just north of Kansas City's lively downtown. Students benefit every day from a challenging instructional program in this rising district of more than 20,000 students in grades PreK-12. NKC Schools has received both state and national accreditation and is regarded as a pioneer in academic excellence in Missouri. With 22 elementary schools, two sixth grade centers, four middle schools, and four high schools, NKC Schools is among the largest and most diverse districts in Missouri. Optional pre-kindergarten, technical academies, and work experiences are all available via the school system.
NKC Schools are dedicated to educating learners in a constantly evolving world for success. Extensive offers of talent and honors, A+ accredited high schools, and a full variety of programs before and after school ensure that every learner has the ability to fulfill their unique potential. For learners of all ages, NKC Schools also provides nationally recognized adult and youth education services.
Founded In: 1913
Location: Kansas City. MO
Ranking: 9
Contact: 816-321-5000
Apply Now 
Grain Valley R-V School District
Grain Valley Schools is based in Jackson County, Missouri, in the eastern part of the state. The district spans forty square miles, covering the entire city of Grain Valley, as well as sections of eastern Blue Springs, western Oak Grove, and unincorporated Jackson County. They provide students with academic and extra-curricular programs, such as those in bigger metro districts, albeit in an environment that feels like a small town. Four elementary schools, two middle schools, a high school, an alternative high school program, and an early childhood center make up Grain Valley Schools. They also provide part-time pre-school at a fee for four-year-olds.
Founded In: 1887
Location: GrainValley, MO
Ranking: 10
Contact: 816-846-5006
Apply Now