School districts are quasi-municipal corporations formed and organized within the state by state legislatures and responsible for the administration of public schools. Usually, elementary schools, also called grade schools, middle or junior high schools, and high schools are included in a school district. School districts are very important, especially if you have a child who may require additional assistance. They also help to increase the value of your household and help resell value. The Jacksonville area is a wide area that covers various cities. The education system in Florida is well known to be operated within districts governed by locally elected school boards and superintendents. Hence, a good school district is integral for students as well as families.
Students who are residents of Jacksonville, Florida, and even non-residents can go through the list of school districts below that serve the people of Florida. You will get various opportunities at schools and even housing facilities. Good luck with your search!
Johns County School District
In lovely Northeastern Florida, St. Johns County is a paradise for lovers of the beach, water, and warm weather, with most of the area along the Atlantic Ocean and inland waterways. Its history goes back to 1821, and the county has become one of the United States' highest-income counties today. The name St. Johns was created from the Spanish Mission (1590) San Juan del Puerto/St. John's of the Harbor. There are 18 Elementary Schools (K-5), 6 Academies (K-8), 7 Middle Schools (6-8), 7 High Schools (9-12), 1 Technical College, 2 Alternative Schools (K-12), 1 Virtual School, 3 Charter Schools, and 2 Juvenile Justice Facilities. The district is 608 square miles with an estimated total of 264,672 residents.
Founded In: 1821
Location: St. Augustine, Florida
Ranking: 1
Contact: 904-547-7500
Apply Now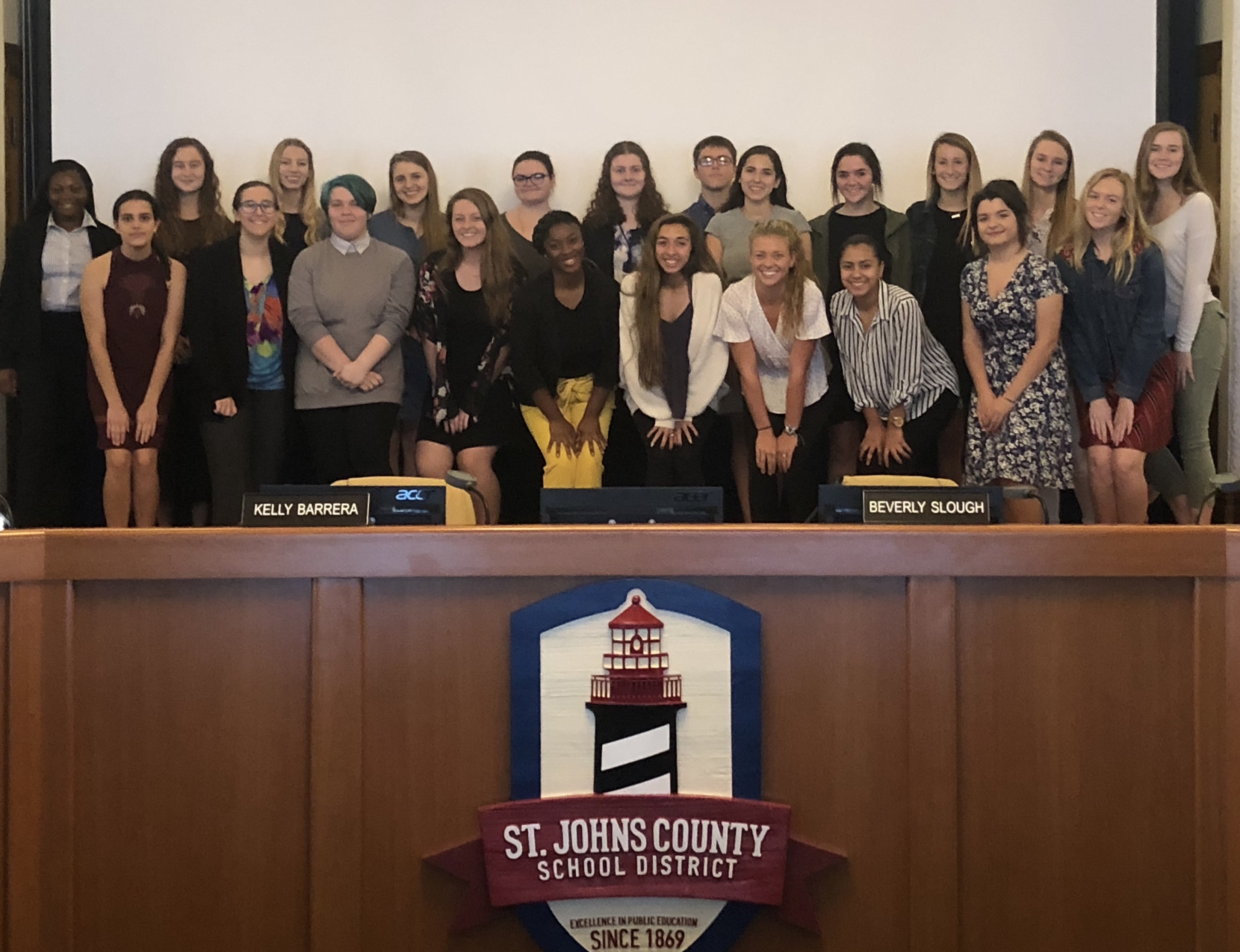 Clay County School District
In Northeast Florida, the Clay County School District covers a 601 square-mile suburban/rural county, including Orange Park, Middleburg, Green Cove Springs, Fleming Island, Penney Farms, Clay Hill, Oakleaf, and Keystone Heights neighborhoods. Clay County is within easy driving distance of St. Augustine, Daytona Beach, Orlando, and Gainesville, bordered by Jacksonville to the north and the St. Johns River to the east, offering residents numerous cultural, educational, and recreational opportunities. The district is a highly ranked district of public schools based in Green Cove Springs, Florida. There are 38,284 PK, K-12 grade students with a student-teacher ratio of 15 to 1. The Clay County School District operates to prepare life-long learners for success in a worldwide and dynamic workplace and to develop appropriate life skills.
Founded In: N/A
Location: Green Cove Springs, Florida
Ranking: 2
Contact: 904-336-6500
Apply Now
Nassau County School District
The Nassau County School District (NCSD) is composed of 16 fully accredited schools covering five local areas: Bryceville, Callahan, Hilliard, Yulee, and Fernandina. The district also runs the Adult High School of Nassau, which provides students with an adult high school diploma at four satellite locations throughout the county. In each group, the school system has single feeder patterns; this helps create strong support when a child in their education transitions from one school to the next level. Nassau County has always had generous community support in their district from parents and employers, building a family environment. There are 649 square miles of land and 74 square miles of water in Nassau County, most of it in the Atlantic Ocean. The county is located in the state's northeastern portion and is bordered to the north by Georgia, south by Duval County, west by Baker County, and east by the Atlantic Ocean.
Founded In: 1869
Location: Fernandina Beach, Florida
Ranking: 3
Contact: 904-491-9900
Apply Now
Duval County Public Schools
The public school system serving families and children living in the urban, suburban, and rural areas of Jacksonville City and Duval County, Florida, is Duval County Public Schools (DCPS). Traditional community and magnet schools, charter schools, and alternative schools are the 196 schools in the district, all of which serve students with varying needs. Except for the beach areas (Atlantic Beach, Neptune Beach, and Jacksonville Beach) and Baldwin, Duval County and the City of Jacksonville combined in 1968, forming a single body governing all of Duval County. The beach towns, as well as the town of Baldwin, are part of the Duval County Public School District. According to the Florida Department of Education's school grade system, which is based on the New Florida Standards and Florida Standard Assessments (FSA) test results, DCPS has achieved an overall ranking of "B".
Founded In: 1864
Location: Jacksonville, Duval County, Florida
Ranking: 4
Contact: 904-390-2000
Apply Now
Baker County School District
The Baker County School District in Macclenny, Florida is a public school district. Baker County is a wonderful place to live, work, and enjoy the peaceful environment of country living and small community, with 585 square miles of beautiful rural life and a population of 27,000. In a safe, caring, and encouraging atmosphere, the Baker County School District is committed to meeting the needs of all students. In the process of defining priorities that meet student needs, the Baker County School System includes parents, pupils, teachers, and community members. There are 5,060 students with a student-teacher ratio of 18 to 1. in grades PK, K-12. 62 percent of students are at least proficient in math and 51 percent in reading, according to state test scores. The Baker County School District's vision is to educate people to be good-natured lifelong learners, self-sufficient, and productive citizens.
Founded In: N/A
Location: Macclenny, Florida
Ranking: 5
Contact: 904-259-6251
Apply Now
Bradford County School District
In Bradford County, Florida, the Bradford County School District administers public education. Its central office is located in Starke, Florida. In grades PK, K-12, it has 3,162 students with a student-teacher ratio of 16 to 1. 46 percent of students are at least proficient in math and 40 percent in reading, according to state test scores. The district comprises five elementary schools, one middle school, and one high school.
Founded In: N/A
Location: Starke, Florida
Ranking: 6
Contact: 904-966-6860
Apply Now