In American football, a position coach is an official of the team responsible for coaching a single position group. There are more specialized roles for position coaches than the head coach, assistant coach, and offensive and defensive coordinators. Head coaches often earn the bulk of the recognition for the success of a program, but their assistants are usually the team's backbone. It's only one hand of the ball that transports the team to the finish line. Rather than calling the action from the sidelines or up in the booth, a position coach plays a major part in the game's outcome.
Many college football coaches have dual roles as position coaches in addition to something else. In the list below, you will find the best there is of the coaches who train athletes in different positions and have a hand at making these teams win titles and championships. The following great name of position coaches has far abilities to even become head coaches someday. Come, let us now take a look at the best in the game!
Brent Venables
Brent Venables, though just 49 years old, has a more distinguished resume than many existing head coaches, and the respect for him will not go away too soon. Venables spent 13 years at Oklahoma as the coordinator and joined Clemson in 2012. Currently, he is the defensive coordinator for the Clemson Tigers Football. The Tigers boasted five top-five defences during his tenure, all in the last six seasons. It is remarkable to be able to assemble, build and maintain that elite performance. Venables has announced the recipient of the 2016 Broyles Award for Best Assistant Coach of the Nation on December 6, 2016.
Tony Elliot
Tony Elliott has shared OC responsibilities with a longtime teammate for the last five years. But South Florida is now headed by Jeff Scott, so Elliott, now the running backs coach, is Clemson's boss. He has been the primary-play caller since his elevation to co-OC in 2015, and the Tigers have won five consecutive ACC titles and two national championships in that time. Elliott began his coaching career in 2006 as the South Carolina State Bulldogs' wide receivers' coach. He then worked for the Furman Paladins in the same role from 2008 to 2010. In early 2011, he made his return to Clemson to fill the role of running back coach. In December 2014, to replace outgoing Offensive Coordinator Chad Morris, he was designated, co-offensive coordinator.
Alex Grinch
Alexander Gregory Grinch is an American football coach who currently serves as the University of Oklahoma's defensive coordinator and safeties coach. From 1998 to 2001 at Mount Union College, Grinch played defensive back. The first permanent assistant coaching job for Grinch was under Sean McDonnell at Division I-AA New Hampshire. Grinch was the cornerback's coach in 2005 and 2006. He is currently a four-time Broyles Award nominee and a semifinalist in 2017 and 2019. A full-time college coach for 15 seasons, and 17 years, Grinch has played in the secondary at all six of his full-time coaching stops, counting two years as a defensive graduate assistant at Missouri.
Brent Pry
University of Buffalo defensive back Brent Pry joined the coaching staff as a student assistant following a career-ending injury in 1991. Eight stops and 28 years later, he is a well-esteemed coach and defensive coordinator for linebackers at Penn State. The Nittany Lions have finished no lower than 23rd nationally in yards surrendered per play, tackles for loss, or sacks in his four seasons as DC. In 1988, Brent began his college career at Division III, Maryville College as a free safety, eventually transferring to Division III, University of Buffalo, where he lettered in 1990. In 1991, having sustained a career-ending injury, he returned for the 1992 season as a student coach.
Mike Elko
At any stop, Mike Elko has only succeeded. The Falcons ranked 98th, 102nd, 74th, 12th, and 24th in yards allowed per play as the defensive coordinator at Bowling Green from 2009-13. The program was braced by Elko's Wake Forest defences as it suffered a miserable stretch of offences. And the unit climbed with Notre Dame from 45th before Elko to 25th with him. At Texas A&M, where the defence rose from 68th in 2017 to 35th last season, the trend has continued. In 2018, the Aggies had a top-three rush defence too. Raised in South Brunswick, New Jersey, Elko graduated from South Brunswick High School in 1995, where he played baseball, basketball and was the school's football team's quarterback. He graduated from Pennsylvania University, where he played for the Penn Quakers football team that won the 1998 Ivy League championship.
Clark Lea
Clark Lea has bounced around the country coaching linebackers over the last decade. In 2010, he got a position coach promotion at UCLA, then in 2017, he went to Bowling Green (2012), Syracuse (2013-15), Wake Forest (2016), and Notre Dame. As the defensive coordinator in 2018, Lea, now 38, replaced Mike Elko, and the Irish have since excelled. In yards allowed per play, the 2018 unit ranked 14th nationally and helped Notre Dame reach the College Football Playoff. The Irish climbed to eighth in 2019 when giving up the third-fewest yards per pass.
Jim Leonhard
The defensive coordinator of the Wisconsin Badgers football team is James Andrew Leonhard (born October 27, 1982). He is a retired American football safety who played in the National Football League for ten seasons (NFL). Leonhard joined Paul Chryst's staff at his alma mater as defensive backs coach in February 2016. Leonhard was named the Badgers' new defensive coordinator in February 2017, replacing Justin Wilcox, who became California's new head coach. Leonhard was named one of five candidates for the Broyles Award at the end of November 2017 to honour the outstanding assistant coach in college football.
Sean Gleeson
He returned to the Northeast for the same job at Rutgers, after a good year as Oklahoma State's offensive coordinator. Gleeson led the offences at Princeton and Fairleigh Dickinson prior to his one-year detour at Stillwater. Don't confuse small schools with low expectations, however. A record-setting Ivy League attack at Princeton was supervised by Gleeson, and his ingenuity contributed to a deserved opportunity at OK State. 2The Pokes ranked 20th in yards per play nationally in 2019 and boasted one of the most prolific defences, also leading the FBS in gains of 60-plus yards.
Marcus Freeman
Since a heart attack ended his fledgeling NFL career in 2010, the former Ohio State linebacker has gradually risen in the coaching ranks. After spending one year in Columbus as a graduate assistant, he spent two years as a linebackers coach at Kent State before holding the same position for four seasons at Purdue. Then, as defensive coordinator at Cincinnati, he joined his former position coach, Luke Fickell. He was selected in the fifth round of the 2009 NFL Draft by the Chicago Bears. At Ohio State, he played college football. Freeman was also a member of the Houston Texans and Buffalo Bills.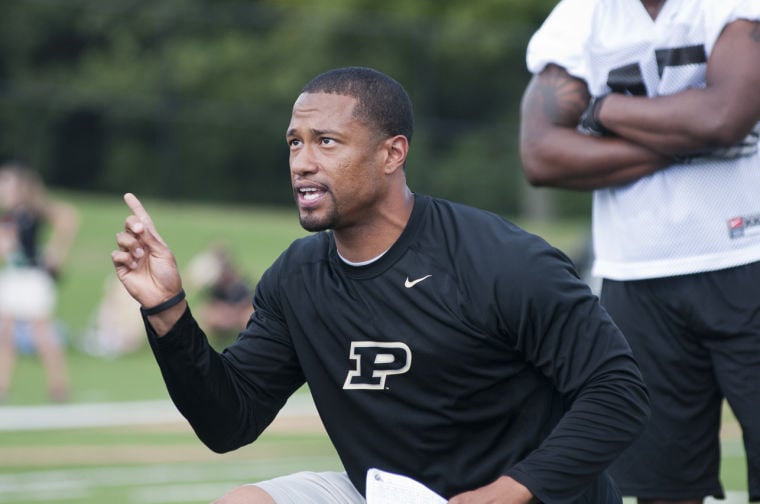 Morgan Scalley
Morgan Scalley is an American football coach who is currently the University of Utah's defensive coordinator. In Utah, he also played college football, where he spent the whole of his coaching career. He spent the 2006-07 seasons in low-level assistant jobs as an All-American safety in the early 2000s. Since 2008, Scalley has been the safety coach and spent seven years as the recruitment coordinator before taking over the defence in 2016. In 2019, Scalley was named a Broyles Award finalist as the lead strategist for the nation's top defences.