Students are with a passion for music and who want to devote their lives to music and thus attend a college. Here we have compiled a list of the Best Musical Theatre Colleges in New York that prepares them in a practical way for a career in the music world.
New York has numerous undergraduate and graduate degree programs in music, from associate's degrees through doctoral programs. Take a look at the list below to find out which school provides the best program for Music students. Good Luck!!
Syracuse University
Syracuse University's bachelor of fine arts (B.F.A.) degree program focuses on the development of your individual talents and abilities with the aim of helping you to discover your uniqueness as a musical theater artist. The dance studio offers four levels of ballet and jazz plus additional studies in tap, modern, and theater dance styles. The acting training incorporates scene study, dramatic theory, text analysis, speech, movement, and on-camera skills. This rigorous program requires coursework in three areas of performance—singing, dancing, and acting—as well as foundations in liberal arts and theater history.
Founded In: 1831
Ranking: 1st
Tuition & Fees Approximately: 43,318 USD
Finance and Admission Office Contact: 315.443.2769
Website: http://vpa.syr.edu/academics/drama/undergraduate/musical-theater/
University at Buffalo
The Music Theatre BFA program at UB encompasses the ever-widening spectrum of theatre arts that range from performance art to opera and includes Broadway musicals, cabaret, and dance works. Its goal is to train complete theatre artists, prepared to succeed as multi-faceted professionals in an increasingly competitive and challenging field. Coursework is reinforced by our numerous performance opportunities, including inventive productions of traditional Broadway shows, and readings and workshops of new works of music theatre in development.
Founded In: 1846
Ranking: 2nd
Tuition & Fees Approximately: In-state 9,381 USD, Out-of-state 24,461 USD
Finance and Admission Office Contact: 716-645-5698
Website: https://catalog.buffalo.edu/academicprograms/music_theatre_bfa.html
The New School
The New School's Bachelor's Program for Adults and Transfer Students lets you choose from hundreds of timely and interesting courses. Graduates of the American Musical and Dramatic Academy (AMDA) can transfer credits to The New School and earn a Bachelor of Fine Arts degree in a flexible, self-designed academic program. The BFA in Musical Theatre program is only for graduates of the AMDA integrated program. Financial aid and scholarships are available to qualified students.
Founded In: 1919
Ranking: 3rd
Tuition & Fees Approximately: 43,813 USD
Finance and Admission Office Contact: 212.229.5150 or 800.292.3040
Website: https://www.newschool.edu/public-engagement/bfa-musical-theater/
Pace University-New York
The Bachelor of Fine Arts (BFA) in Musical Theater in the School of Performing Arts offers elite training by well-connected professionals working in the industry that combines the disciplines of acting, music, and dance. The BFA in Musical Theater major offers you the opportunity to showcase your abilities and talents while preserving and refining your individuality. Its acting, music, and dance courses have all been designed with the professional musical theater performer in mind, and each class seeks to bring together these three disciplines into a cohesive synthesis.
Founded In: 1906
Ranking: 4th
Tuition & Fees Approximately: 41,333 USD
Finance and Admission Office Contact: +1 212-618-6100
Website: http://performingarts.pace.edu/bfa-musical-theater
SUNY at Purchase College
The Conservatory of Theatre Arts in the School of the Arts at Purchase College offers intensive, highly focused BFA training programs in acting and theatre design/technology for a limited number of students who seek to pursue professional careers in these fields. The theatre and performance BA program is for those interested in exploring the history and aesthetics of world drama and performance and the possibilities of theatrical expression—as performers, directors, and playwrights—within a broader liberal arts context.
Founded In: 1967
Ranking: 5th
Tuition & Fees Approximately: In-state 8,267 USD, Out-of-state 18,117 USD
Finance and Admission Office Contact: (914) 251-6000
Website: https://www.purchase.edu/academics/theatre-arts/
SUNY at Fredonia
Fredonia has the most comprehensive selection of theatrical degree programs in the SUNY system. Students interested in the BFA programs in Acting and Musical Theatre must submit pre-screening materials through Acceptd. With Bachelor of Fine Arts degrees in Acting, Dance, Musical Theatre, and Theatrical Production and Design, and a Bachelor of Arts in Theatre Arts, no other SUNY can offer the range of experiences or opportunities that Fredonia does. The State University of New York is fully accredited by the National Association of Schools of Theatre (NAST).
Founded In: 1826
Ranking: 6th
Tuition & Fees Approximately: In-state 8,074 USD, Out-of-state 17,924 USD
Finance and Admission Office Contact: 716-673-3111
Website: http://www.fredonia.edu/theatredance
Ithaca College
Ithaca College's highly competitive BFA in Musical Theatre is an intensive, performance-oriented training program in acting, singing, and dancing designed to develop and strengthen the skills, hone the instincts and fosters the passion necessary for a professional career in musical theatre. As musical theatre majors progress through their freshman and sophomore years, they are regularly evaluated by theatre, dance, and music faculty through singing and acting reviews, and assessment of dance and music coursework.
Founded In: 1892
Ranking: 7th
Tuition & Fees Approximately: $8,796
Finance and Admission Office Contact: (607) 274-3011
Website: https://www.ithaca.edu/hs/depts/theatre/programs/mustheater/
SUNY College at Cortland
At the SUNY College, you'll work alongside the finest teachers and extremely creative students to develop a strong foundation in theatre, music, dance and technical theatre, resulting in thorough professional training for your dream career. Taking classes in some of the most noteworthy facilities on campus will enhance your study. The inspiration to be a champion in every aspect of life — that's the value of the experiences and education at SUNY Cortland.
Founded In: 1868
Ranking: 8th
Tuition & Fees Approximately: $22,120
Finance and Admission Office Contact: 607-753-2811
Website: https://www2.cortland.edu/departments/performing-arts/program-details.dot?progid=8885d1c3-6ea3-4899-a30b-9d31637ab30b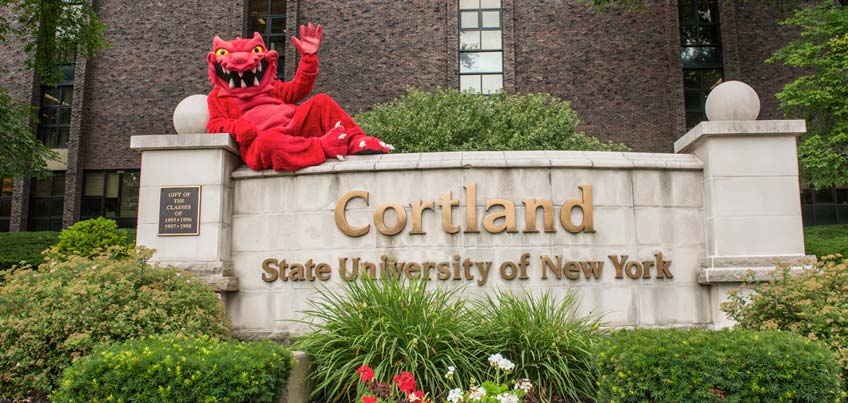 Manhattanville College
The Manhattanville College offers 50+ undergraduate areas of study and 70+ graduate programs, degrees, and certificates reinforced by internships, career counseling, mentors, and networking opportunities. Small class sizes with a 12:1 student-faculty ratio ensure that each student receives a personalized education and reaches their full potential. Many of Manhattanville's graduate classes are conveniently offered in the evening or on weekends. With over 90 areas of study, Manhattanville College has something for everyone!
Founded In: 1841
Ranking: 9th
Tuition & Fees Approximately: 36,220 USD
Finance and Admission Office Contact: +1.914.694.2200
Website: https://www.mville.edu/tags/musical-theatre
Genesee Community College
Genesee Community College is a public community college with its main campus in Batavia, New York. The Musical Theatre Certificate program will allow you the opportunity for focused preparation and skills in theatre production. Through active participation in the annual musical production, you'll learn Proper Audition Technique, Proper Vocal Production, Practical Experience Working in Musicals, Character Development Process.
Founded In: 1966
Ranking: 10th
Tuition & Fees Approximately: In-state 4,410 USD, Out-of-state 5,010 USD
Finance and Admission Office Contact: +1 585-345-6814
Website: https://www.genesee.edu/academics/programs/Arts/Musical/