What are the top colleges in Maryland? Whether you're looking to decide between a public or private college and university, you can find best-value top 2-year and 4-year colleges in the entire state.
We'll help you find the best colleges in Maryland. Follow our list to get a head start on choosing and affording your dream college in MD.
Based on U.S. News & World Report ranking, you can check our given methodology to customize your college search by ranking, tuition & fees, popular majors and more!
Loyola University Maryland
Loyola University Maryland is a Jesuit Catholic university committed to the educational and spiritual traditions of the Society of Jesus and to the ideals of liberal education. Academically, the university is divided into three schools: the Loyola College of Arts and Sciences, the Loyola School of Education, and the Sellinger School of Business and Management. With 25 graduate programs, more than 30 undergraduate majors, 40 minors, and study abroad programs and exchanges in 24 countries, you're bound to discover your life's calling or take your career to the next level. And with a faculty/student ratio of 1:11, you'll get individualized attention to boot.
Founded In: 1852
Ranking: 1st
Acceptance Rate: 61%
Tuition & Fess Approximately: $47,725
Admission Office Contact: 410-617-2000 or 1-800-221-9107
Website: https://www.loyola.edu
Johns Hopkins University
Johns Hopkins is America's first research university that was founded in 1876. Johns Hopkins is made up of nine world-class academic divisions plus the Applied Physics Laboratory. More than 24,000 undergraduate and graduate students (full- and part-time) are enrolled in their nine academic divisions. Their faculty and students study, teach and learn in and across more than 260 programs regularly recognized as being among the nation's best. It offers bachelor's, master's, doctoral degrees as well as certificate programs. You can check tuition fees of graduate, undergraduate, and doctoral programs (nine academic divisions) at https://www.jhu.edu/admissions/tuition/.
Founded In: 1876
Ranking: 2nd
Acceptance Rate: 11.4%
Tuition & Fess Approximately: Varies according to the programs
Admission Office Contact: 410-516-8000
Website: https://www.jhu.edu
United States Naval Academy
Established on 10 October 1845, the United States Naval Academy is a four-year coeducational federal service academy in Annapolis, Maryland.  It is ranked 1st as Public School and 4th as STEM College in the United States. As the undergraduate college of their country's naval service, the Naval Academy prepares young men and women to become professional officers of competence, character, and compassion in the U.S. Navy and Marine Corps. Naval Academy students are midshipmen on active duty in the U.S. Navy. At the Naval Academy, they offer 26 majors and their academic programs are focused especially on science, technology, engineering, and mathematics (STEM), in order to meet the current and future highly technical needs of the Navy.
Founded In: 10 October 1845
Ranking: 3rd
Acceptance Rate: 9%
Tuition & Fess Approximately: N/A
Admission Office Contact: +1 410-293-1000
Website: https://www.usna.edu/homepage.php
Mount St. Mary's University
Mount St. Mary's University is a private, liberal art, Catholic university. The university has more than 40 majors, minors, concentrations and special programs, including bachelor's/master's combinations in partnership with other universities. The university also offers eight master's degree programs and six postgraduate certificate programs. MSMU offers scholarships and aid to students in three categories such as Academic Scholarships, Additional University Scholarships, and Need-Based Financial Aid.
Founded In: 1808
Ranking: 4th
Acceptance Rate: 66.9%
Tuition & Fess Approximately: $53,380* (Total Tuition, Room, Board, Fees)
Admission Office Contact: admissions@msmary.edu, 301-447-6122
Website: http://www.msmary.edu
Hood College
Hood College is an independent liberal arts college. The College's well-regarded faculty and caring support staff provide a quality education at the undergraduate and graduate levels in a small-college environment that integrates the liberal arts with professional studies and experiential learning. Hood offers 19 master's degrees, 32 undergraduate majors, 30 concentrations within the majors and 50 minors. The Honors Program at Hood is highly selective, admitting a limited number of outstanding students each year. Each year, Hood College awards more than $6 million in merit-based scholarships, including scholarships for first-year students entering from high school as well as for students transferring from other colleges. Students admitted to Hood are automatically considered for most merit scholarships, the majority of which are renewable for up to four years.
Founded In: 1893
Ranking: 5th
Acceptance Rate: 79%
Tuition & Fess Approximately: $37,960
Admission Office Contact: 301-663-3131
Website: https://www.hood.edu
St. John's College
St. John's College is a private liberal arts college and one of the oldest institutions of higher learning in the United States. It has two U.S. campuses: one in Annapolis, Maryland, and one in Santa Fe, New Mexico, both of which rank in the top 100 Best Liberal Arts Colleges according to the U.S. News & World Report website. The school grants only one bachelor's degree, in Liberal Arts. Two master's degrees are available through the college's Graduate Institute—one in Liberal Arts and one in Eastern Classics.
Founded In: 1696
Ranking: 6th
Acceptance Rate: 81%
Tuition & Fess Approximately: $51,795
Admission Office Contact: 410-263-2371
Website: https://www.sjc.edu
University of Maryland-College Park
Interested in becoming a University of Maryland student? The University of Maryland, College Park is the state's flagship university and one of the nation's preeminent public research universities. The University offers 127 undergraduate degrees and 112 graduate degrees in thirteen colleges and schools. A global leader in research, entrepreneurship, and innovation, the university is home to more than 40,000 students, 10,000 faculties and staff, and 352,000 alumni all dedicated to the pursuit of Fearless Ideas. Spanning 12 schools and colleges, Maryland offers more than 200 degree-granting programs, many of them ranked among the best in the country. Their students, who include the highest achievers in the state and nation, enjoy experiences unique to their location just outside the nation's capital, including internships, research, and leadership and service opportunities.
Founded In: March 6, 1856
Ranking: 7th
Acceptance Rate: 45%
Tuition & Fess Approximately: $33,606 (out-of-state), $10,399 (in-state)
Admission Office Contact:
Website: https://www.umd.edu
Salisbury University
Salisbury University is a regionally accredited four-year comprehensive institution. The SU offers 58 distinct undergraduates and graduates degree programs across five academic schools: the Fulton School of Liberal Arts, Perdue School of Business, Henson School of Science and Technology, Seidel School of Education & Professional Studies, and the College of Health and Human Services. Popular majors include Biology/Biological Sciences, Business Administration and Management, Kinesiology and Exercise Science and Psychology. The University has ten female and nine male Division III NCAA teams.
Founded In: 1925
Ranking: 8th
Acceptance Rate: 54.7%
Tuition & Fess Approximately: $18,622 (out-of-state), $9,582 annually (in-state)
Admission Office Contact: 410-543-6000
Website: http://www.salisbury.edu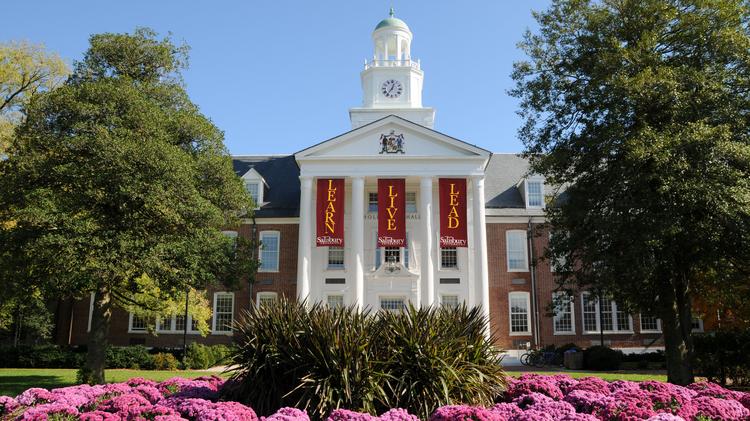 St. Mary's College of Maryland
St. Mary's College of Maryland is a public and state-supported honors college. It is accredited by the Middle States Commission on Higher Education. With about 1,800 enrolled students, the institution offers bachelor's degrees in 24 disciplines, as well as a master's program and numerous certification programs. The college has 31 undergraduate programs that allow a choice of 24 majors, leading to a Bachelor of Arts (BA) and 26 minors. Its popular degree programs include biology, economics, English, history, political science, and psychology. It also offers a Master of Arts in Teaching (MAT).[2] including teacher certification.
Founded In: 1840
Ranking: 9th
Acceptance Rate: 79%
Tuition & Fess Approximately: $29,948 (out-of-state), $14,496 (in-state)
Admission Office Contact: (240) 895-2000
Website: http://www.smcm.edu
Washington College
Washington College is a private and independent liberal arts college. It is the 10th-oldest college in the United States. Approximately 85 percent of the student body receives some form of need-based financial aid or merit-based scholarship award. With a student-faculty ratio of 12-to-1, Washington College is the kind of place where your professors will help you chart your personal academic journey. With more than 40 majors and academic programs to choose from, you can shape a course of study that fits your intellectual interests and career aspirations. Approximately 1,450 undergraduate students from 35 states and 40 nations attend Washington College. Offering rigorous coursework in the liberal arts, they invite you to engage in "all hands-on learning."
Founded In: 1782
Ranking: 10th
Acceptance Rate: 55.7%
Tuition & Fess Approximately: $43,850
Admission Office Contact: (410) 778-7700, SFA: (410) 778-7214
Website: https://www.washcoll.edu
Goucher College
Goucher students have access to 33 different majors and six interdisciplinary programs. There are also special introductory courses for first-year students to orient them to the campus, as well as life at the college. Goucher College and Susquehanna University are the only colleges in the United States that require a study abroad experience. At Goucher, they understand that students come from a variety of personal and professional backgrounds, so they take pride in offering flexible degree options. The school has approximately 1,480 undergraduate students studying in 33 majors and six interdisciplinary programs and 1,200 students studying in graduate programs. Undergraduates are also expected to fulfill an off-campus learning requirement, either through an internship or a study-abroad experience.
Founded In: 1885
Ranking: 11th
Acceptance Rate: 75.7%
Tuition & Fess Approximately: $43,440
Admission Office Contact: 410.337.6000, admissions@goucher.edu
Website: https://www.goucher.edu
McDaniel College
McDaniel College is a private four-year liberal arts college accredited by the Commission on Higher Education of the Middle States Association of Colleges and Schools. The faculty, as well as the students, have worked together to create over sixty undergraduate majors and 20-plus graduate programs. McDaniel also offers over one hundred different minors and it has 25 departments. The McDaniel Plan is designed to be personal and flexible enough so you can pursue all of your interests. It offers more than 70 areas of study, including pre-professional programs, teaching certification, and our 5-year B.A. to M.S. programs. A McDaniel education is multicultural and international in scope. To fulfill the Global Citizenship requirement, students must take one course with a multicultural focus, and two courses with an international or cross-cultural focus.
Founded In: 1867
Ranking: 12th
Acceptance Rate: 76.1%
Tuition & Fess Approximately: $41,800
Admission Office Contact: 410-848-7000, ocm@mcdaniel.edu
Website: https://www.mcdaniel.edu