Teaching is one of the most admirable professions that one can choose. Teaching can be a challenging profession, and the degree programs that will lead you to the classroom can be equally challenging. There are a variety of teacher preparation programs in Florida that prepare students to enter the education field within the state.
If you want to be a teacher then luckily, we have compiled the list of top colleges and universities that offer teaching degree in Florida state. Discover our full list "Best Colleges in Florida for Teaching Degrees" that will help you a lot in picking a top college which provides an excellent teaching program in the entire state. Wish you all the best!!
University of Central Florida
The University of Central Florida is an American public state university in Orlando, Florida. At the UCF Teaching Academy and College Outreach offers teaching degree at the University of Central Florida. Here, students will gain the knowledge, experience, and confidence needed to transform lives and strengthen communities that are required to being a teacher. Through diverse programs and established partnerships, they are uniquely positioned to develop innovative solutions to complex social issues.
Founded In: 1963
Ranking: 1st
Tuition Approximately: $6,368
Contact Information: +1 407-823-1295
Apply Now: http://academy.ucf.edu/
University of Florida
The University of Florida is a public land-grant, sea-grant, and space-grant research university on a 2,000-acre campus in Gainesville, Florida. At the University of Florida, students receive pre-professional level training, educator Accomplished Practices and participate in an integrated school-based observation. A Professional Training Option is an alternative certification program approved by the Florida Department of Education.
Founded In: 1905
Ranking: 2nd
Tuition Approximately: $17,394
Contact Information: (352) 273-4107
Apply Now: https://education.ufl.edu/student-services/undergraduate-admissions/teacher-education-programs/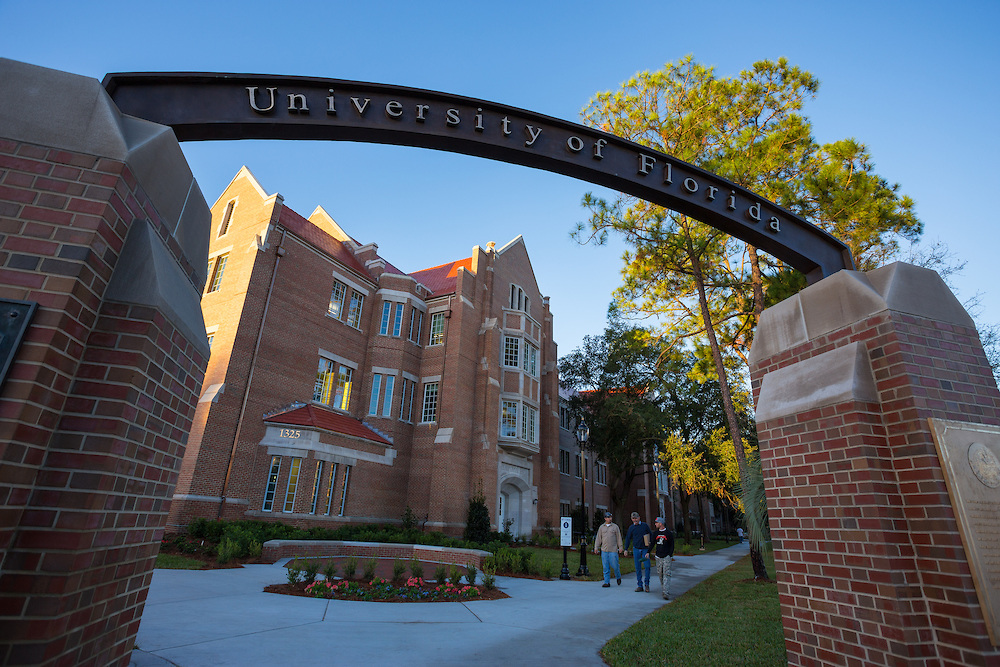 Florida Atlantic University
The Florida Atlantic University is a public university in Boca Raton, Florida, with five satellite campuses in the Florida cities of Dania Beach, Davie, Fort Lauderdale, Jupiter, and in Fort Pierce at the Harbor Branch Oceanographic Institution. Here, the Department of Teaching and Learning is committed to preparing knowledgeable, reflective, and skilled educators to teach in a globally diverse society with an emphasis on strong content knowledge and meaningful field experiences in all disciplines.
Founded In: 1961
Ranking: 3rd
Tuition Approximately: $2,522
Contact Information: 561-297-3570
Apply Now: https://www.fau.edu/education/academicdepartments/tl/
University of South Florida-Main Campus
The University of South Florida is an American metropolitan public research university in Tampa, Florida, United States. In the University Of South Florida College Of Education, the Teacher Education program offers a Doctor of Philosophy (Ph.D.) degree. The Ph.D. program in Curriculum and Instruction with a concentration in Teacher Education engages students in coursework, research, and professional experience in school and community settings.
Founded In: 1956
Ranking: 4th
Tuition Approximately: $4,559
Contact Information: 813-974-3400
Apply Now: https://www.usf.edu/education/areas-of-study/teacher-education/index.aspx
Florida State University
The Florida State University is a public space-grant and sea-grant research university with its primary campus on a 1,428.6 acres campus in Tallahassee, Florida. The Florida State University College of Education provides teaching degree which is one of sixteen colleges comprising the Florida State University. Here, educator Preparation established prior to the end of the first semester of enrollment in an initial teacher preparation graduate degree program.
Founded In: 1851
Ranking: 5th
Tuition Approximately: $4,022
Contact Information: (850) 644-3760
Apply Now: https://education.fsu.edu/admissions/undergraduate-admissions/teacher-education
Florida International University
Florida International University Panthers football program represents Florida International University in the sport of American football. The college offer to teach programs that support teaching professionals throughout their careers. Here, the student-centered faculty is working with those who aspire to be teachers and professionals at every educational level.
Founded In: 1965
Ranking: 6th
Tuition Approximately: $4,721
Contact Information: (305) 348-3202
Apply Now: https://tl.fiu.edu/
University of Miami
The University of Miami is a private, nonsectarian research university in Coral Gables, Florida, United States. At the University of Miami, the Department of Teaching and Learning is committed to improving the education of all students, providing high-quality teacher education to pre-service teachers, and offering professional learning opportunities for in-service teachers. In the university, the graduates are prepared the next generation of specialists and researchers who will serve as leaders in schools, faculty members in a variety of settings, and experts in community programs and beyond.
Founded In: 1925
Ranking: 7th
Tuition Approximately: $47,040
Contact Information: 305-284-3711
Apply Now: https://sites.education.miami.edu/tal/
University of North Florida
The University of North Florida is a public university in Jacksonville, Florida, United States. At the University Of North Florida, for applying in teaching the student should hold a bachelor's degree or higher from an accredited college. Undergraduate degree major in the subject area or specified number of college credit hours in the subject area or a passing score on the Florida teacher certification subject area exam.
Founded In: 1972
Ranking: 8th
Tuition Approximately: $21,210
Contact Information: (904) 620-1000
Apply Now: https://www.unf.edu/coehs/certification/Florida_Teacher_Certification.aspx
Florida Southern College
The Florida Southern College is a private college in Lakeland, Florida. Florida Southern College is accredited by the Southern Association of Colleges and Schools Commission on Colleges. All Florida Southern College education programs are also fully approved by the Florida Department of Education. The mission of the Teaching and Learning Center at the university is to provide professional development and technical support for faculty and students as they leverage engaged teaching and learning practices and tools in the higher education classroom.
Founded In: 1883
Ranking: 9th
Tuition Approximately: $36,348
Contact Information: +1 863-680-4111
Apply Now: https://www.flsouthern.edu/schools/education/home.aspx
Nova Southeastern University
The Nova Southeastern University is a private nonprofit university, with the main campus located on 315 acres in Davie, in the US state of Florida. The Teacher Education program is an exciting offering of Nova Southeastern University which provides a career solution for Spanish-speaking individuals holding foreign university degrees and who seek a new professional path in the United States.
Founded In: 1964
Ranking: 10th
Tuition Approximately: $31,783
Contact Information: 866-239-7345
Apply Now: https://education.nova.edu/international-programs/ilale/teacher-education-program.html