Over the last couple of years, college football has been home to numerous displays of immaculate wide receiver play; two of the greatest ever seen are the 2020 and 2021 NFL Draft wide receiver classes. Although there has been a rapid turnover of talent at the role as of late, the next step to elite status can be made by a multitude of talented receivers in the college ranks. For years, the importance of receivers in fantasy football has been slowly decreasing, primarily due to the oversaturation of talent in the position coupled with an improvement in running back performance output since 2017. But, a wide receiver is an equally important position that needs to be given due importance.
If you are interested as a football player to learn about the best wide receivers, we have listed here the ten best college wide receivers. It is known to many that these ten players are famous for their game and athletic zeal. Read on to know more about these college athletes!
Ja' Marr Chase, LSU
In the 2021 draft class, there are a lot of promising receivers, but Ja'Marr Chase of LSU is the best of the bunch. After an impressive 2019 season that concluded with a national title, Chase opted out of the 2020 season. Not only did the Tigers go unbeaten, but with 84 catches for 1,780 yards and 20 touchdowns, Chase was also a unanimous All-American. Chase didn't have anything left to show in college after setting SEC records for receiving yards and touchdowns in a season. While being only a true sophomore, he was theoretically a sound route-runner. He also displayed elite athleticism and explosiveness, making it impossible for defenses to cover him.
Devonta Smith, Alabama
For years, Smith has been a playmaker for the Crimson Tide and is the only receiver with multiple games of four or more receiving touchdowns in SEC history. In 2020, he was the focal point of the offense, catching 65 passes in just seven games for 903 yards and 10 touchdowns. While he's not the most dynamic receiver in this class, with his fast footwork and differing release packages at the scrimmage line, Smith creates separation. After the grab, he's still a threat, regularly causing defenders to miss to pick up extra yards downfield.
Jaylen Waddle, Alabama
In all four complete games he has played, Waddle has at least 100 receiving yards, catching 25 passes for 557 yards and four touchdowns. 87-plus yards in two of those touchdowns. Unfortunately, after he sustained a possible season-ending ankle injury on the opening kickoff against Tennessee, Waddle's season was cut short. Waddle demonstrated his skills as both a vertical threat and a return man prior to his injury. In this draft class, his pace is probably the best, going to his top speed almost quickly to burn by defenders. He also does a decent job of tracking the ball on long throws over his shoulder and is able to reach out of his frame to make tougher catches.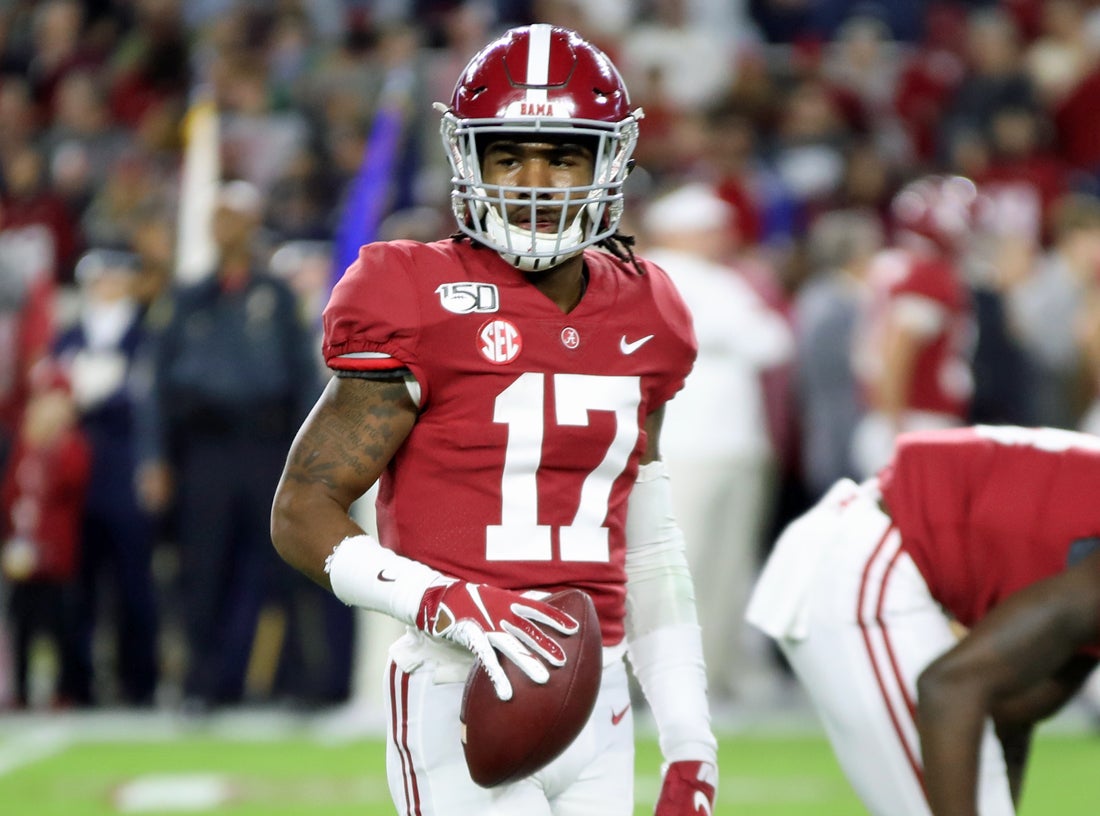 Rondale Moore, Purdue
Don't let his small size fool you, because as one of the top wide receivers in this draft class, Purdue's Rondale Moore belongs in the discussion. Coming in at just 5'9 'and 180 pounds, Moore took the Big Ten by surprise in 2018 as a true freshman with 114 catches for 1,258 yards and 12 touchdowns. After just four weeks, a knee injury ended his second season. Even though he's the smallest receiver on this list, after the catch, Moore might be the best. He is so close to the ground that he has the balance of elite touch, and his elusiveness and acceleration make it impossible for defenders to even get a clean shot on him. He also regularly generates distinction by shifting speeds and direction rapidly while running routes.
Terrace Marshall Jr., LSU
LSU's Terrace Marshall Jr. is someone to keep an eye on for lovers of tall and talented wide receivers. In 2019, behind Ja'Marr Chase and Justin Jefferson, Marshall carved out his own place, catching 46 passes for 671 yards and 13 touchdowns. As this year's highest goal on the roster, Marshall was more effective on a per-game basis. In six weeks, he has already picked up nine touchdowns, placing him just two points behind FBS leader Jaelon Darden. Marshall has the size and physical strength to handle defensive backs, coming in at 6'3 'and 200 pounds. He is not deterred by cornerbacks trying to jam him off his release, and to make contested catches, he has excellent body control.
Rashod Bateman, Minnesota
In 2019, Bateman was one of the country's most impressive receivers, averaging 20.3 yards per catch for 1,219 yards and 11 touchdowns. He had intended to opt-out of the season originally, but at the end of September, he then opted back in. On contested catches and with the ball in his possession, his playing power and competitive strength show up. Due to his contact balance and a strong stiff-arm, defenders fail to pull Bateman down. The ability of Bateman to build separation at the stem of the route helps him to get open in the pros.
Amon-Ra St. Brown, Usc
USC's Amon-Ra St. Brown is accustomed to being in the national spotlight as a recent 5-star prospect. He hasn't gained as much national coverage in college, but once he's in the NFL, that could change. With St. Brown receiving 19 passes for 266 yards, the Trojans have appeared in just three games. Owing to his top-tier athleticism, St. Brown has some of the best potentials in this draft class. At times in his college career, his blast, strength, and elusiveness have been put on display.
Chris Olave, Ohio State
Wide receiver Chris Olave is attempting to improve his draft status as the Ohio State Buckeyes prepare for another College Football Playoff appearance. Olave has 75 catches for 1,238 yards and 16 touchdowns since the start of the 2019 season. He doesn't have as many catches on this list as any of the other players, but the end zone is also no stranger to him. His footwork and positional agility make him a polished route-runner, and in contested-catch conditions, he has strong enough body coordination to align himself well.
Tylan Wallace, Oklahoma State
In 2018, Wallace was an All-American first-team and has regularly been a top asset for the Cowboys. In his college career, he caught 185 passes for 3,163 yards and 24 touchdowns, making him one of the nation's most prolific receivers. Wallace is an outstanding downfield threat at 6'0 'and 190 pounds with sudden explosiveness and a good release kit at the scrimmage line to get separation early when granted a free release. Due to his exceptional vertical jumping abilities and heavy hands, he's also excellent at making contested catches. As a Day 2 pick, Wallace's ability set would allow him to fill a strong position at the pro level.
Sage Surratt, Wake Forest
Sage Surratt of Wake Forest opted out of the 2020 season, but he still belongs in the draft class of this year on the list of top receivers. In 2019, in just nine seasons, Surratt had 66 catches for 1,001 yards and 11 touchdowns. He topped 150 receiving yards four times. Surratt uses his height and strength to his benefit at 6'2 'and 215 pounds. He's a below-average runner, missing the explosiveness and top-end pace of other receivers on this list. But, by exploiting defensive backs well with his size and contested-catch ability, he's still a capable downfield receiver. He's still a tenacious blocker who would be loved by NFL coaches.