For both teenagers and the adults responsible for the development of teens, high school is a tough time. Rules are an important feature of any classroom, especially when you're dealing with students from high school. Teenagers can be quickly confused by their budding hormones and complicated social lives, and while many are experienced and extremely competent, they can also benefit from structure and rules. The rules of the classroom provide instructions that allow students to realize what is expected of them. Ideally, for all the learners to see, they should be quick, easy to follow, and placed somewhere that is visible. Keeping them general enough to encompass a range of circumstances, but also unique to your students, classroom, and education is one of the keys to writing productive classroom rules.
The framework and guidance required to build a positive learning atmosphere are established by classroom rules. You can create a collection of rules for the classroom yourself or ask the students for feedback and work together to make a list of rules. It is ideal to go over the rules in class with the students at the beginning of each academic year or semester, leaving time for questions and discussion. When they grasp the intent behind them, students are more likely to obey the rules; rules that appear excessive or pointless are more likely to be forgotten. For this reason, it is important to clarify why you have created these rules and how they can help build an effective, well-run classroom.
Routine and order are important facets of every school, and you need to be clear as an instructor with how you apply the rules, without playing favourites or backing down on the consequences. If you don't, students won't respect and obey the rules. Although most teachers recognize implications for wrongdoing, think considering identifying areas where students can receive awards. A useful strategy is positive reinforcement. Be sure to thank students for behaving correctly, and recommend awarding students who meet standards small prizes.
There are a series of alternative ways to build a list of rules for the classroom. You should do it all on your own, setting the rules as you see fit. Another approach is to invite your students' suggestions; you may also make them vote on which rules they favour. The advantage of this strategy is that it helps you to think more about what type of classroom atmosphere your students want.
You will help the students get the best out of their high school years by setting out these top rules! Hope you enjoy reading the list.
1. Arrive On Time
Everyone has to be on schedule and ready to start class in order to keep the classroom running smoothly. Students outside the door and running in would be deemed tardy after the bell has started to toll. When the bell rings to be counted to be present, you must be in your seat. Punctuality, right from school days, is one of the best attributes to be developed. Establish a schedule before the bell rings to enter school and be seated in your classroom spot before the warning bell.
2. Turn Off Cell Phones And Electronic Devices
Cell phones and other mobile gadgets, such as mp3 players, tablets, need to be switched off while class is in session. They will be seized if they are not switched off.
3. No Food Or Drinks
Lunchtime and recess in classes should be reserved for eating and drinking. For students with medical conditions, though, exceptions can be made.
4. Attend To Personal Needs Before Class
To avoid causing inconvenience to your fellow classmates, use the bathroom or stop at your locker before class. Hall passes are restricted, so unless you have a genuine emergency, please do not ask for a pass.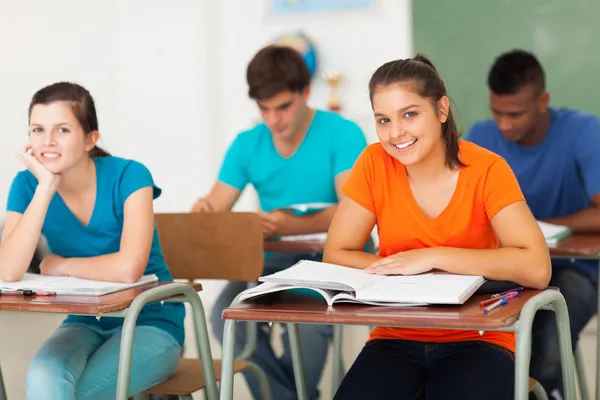 5. Bring Required Materials Everyday
Come to class prepared with all the necessary supplies you were advised to carry at the beginning of the school year unless you have been told otherwise. Do not deter the teacher or other students from asking to borrow things that you have failed to carry to class.
6. Start Your Assignment When The Bell Rings
When you arrive for class, instructions will be posted on the board or the projector screen. To begin your assignment, please do not wait to be reminded.
7. Use Polite Speech And Body Language
Always behave in a manner that your teacher and fellow students appreciate. At all times, unkind teasing and impolite behaviour are inappropriate and will lead to disciplinary proceedings. When they are talking, be mindful of other students. There will be no toleration of any form of bullying.
8. Speak When Permitted
You must raise your hand in class most of the time and wait before answering to be called on. During group work, there will be occasions when a quiet conversation is allowed. Be mindful of what it is and is not appropriate to speak. Until all students have finished, it is vital that students remain quiet during examinations.
9. No Cheating
A zero and a phone call home will be given to students caught stealing. The same effects will be ensured by both the student who shares his work and the one who copies it. During tests and preparation of other graded tasks, be aware of unintended cheating by covering the paper. You should still uphold moral standards, such as integrity.  It's not a big deal to fail at times in tests, but it is never tolerable to succeed by cheating.
10. Listen And Follow Directions
In class, it is necessary for you to pay attention and obey the instructions of the teacher. When you listen in class and follow instructions, there are chances for you to be a more effective student.
11. Never Pack Up Before It's Time To Leave
When it's getting near to the end of class, it can be tempting to pack up early. Nevertheless, when preparing to leave, you can wait until the teacher has dismissed you.
12. Turn in Work on Time
Please turn in your work on time unless you have been given an extension. A lower score will be given for late assignments.
13. Use Technology For Learning
When the class uses a type of technology for a lecture, such as computers or tablets, use the technology to learn for its intended purpose. Don't use social media or search the internet.
14. Makeup Missed Work
If you have skipped a lecture or an assignment, make plans to finish the work with your tutor.
15. If You Have a Question, Ask For Help
Ask the instructor or another student for assistance if anything is unclear, such as homework instructions or something in your reading materials.