Are you a college student looking for a night out in Boston? In life, college is a wonderful time. There's independence, new friends, new experiences, and plenty of drinking, in addition to all the learning. There is a decent selection of college bars in Boston where the just-21 set loves to meet. These are bars that cater to the small budgets of students, with cheap beers and decent drinks, plus the occasional meal or promotion deal. If you're looking for a wild night, surrounded by youthful life, moving into the wee hours, here are the best Boston college bars.
Check out this list of the best bars in Boston, where you can enjoy your weekends or your weekday blues as a student! Hope you have loads of fun at these bars. And remember to drink responsibly!
Tavern in the Square
The Tavern in the Square is located in the heart of downtown Boston, just across from TD Garden. Tavern in the Square otherwise referred to as T.I.T.S, is one of the favourites of college students for a fun night out. Accessible until 2 am on weekends, T.I.T.S offers several cocktail options and a selection of beers on tap. As a sports bar and night club, T.I.T.S doubles, with one long bar on one side with stools and one wide dance floor on the other. The atmosphere at T.I.T.S is lively and exciting. At the bar, you can grab a few beers and relax, or you can order a bucket of alcohol and get a lot more alcohol for just a bit more cash. If you enjoy dancing, listening to music, and having a bucketful of drinks, then the Tavern in the Square is your place!
Founded In: 2014
Location: Beverly Street, Boston
Ranking: 1
Contact: 617-263-0404
The Baseball Tavern
The Baseball Tavern is the go-to bar of any college sports enthusiast. It is located directly across from Fenway Park and has for over 50 years been the sports bar for the area and the Boston Red Sox. Before a baseball game, after a baseball game, and if you ever want to watch a baseball game, this is the bar you go to. Complete with 30 large screen HDTVs and a rooftop deck, after watching one here, you would never want to watch a baseball game anywhere else!
Founded In: 1963
Location: Boylston Street, Boston
Ranking: 2
Contact: 617-867-6526
The Lansdowne Pub
The Landsdowne Pub is situated across from Fenway and is known for its Irish atmosphere. The Lansdowne Pub is a bar in Ireland where you can drink and behave as the Irish do. This bar offers a number of enjoyable events, from DJ nights and live music to trivia nights with themes. Karaoke and neighbourhood nights are also available, where you can get $1 oysters, $5 burgers, 50-cent wings, and even a $15 prime rib dinner. On a college budget, it does not get any better than this.
Founded In: N/A
Location: Lansdowne Street, Boston
Ranking: 3
Contact: 617-247-1222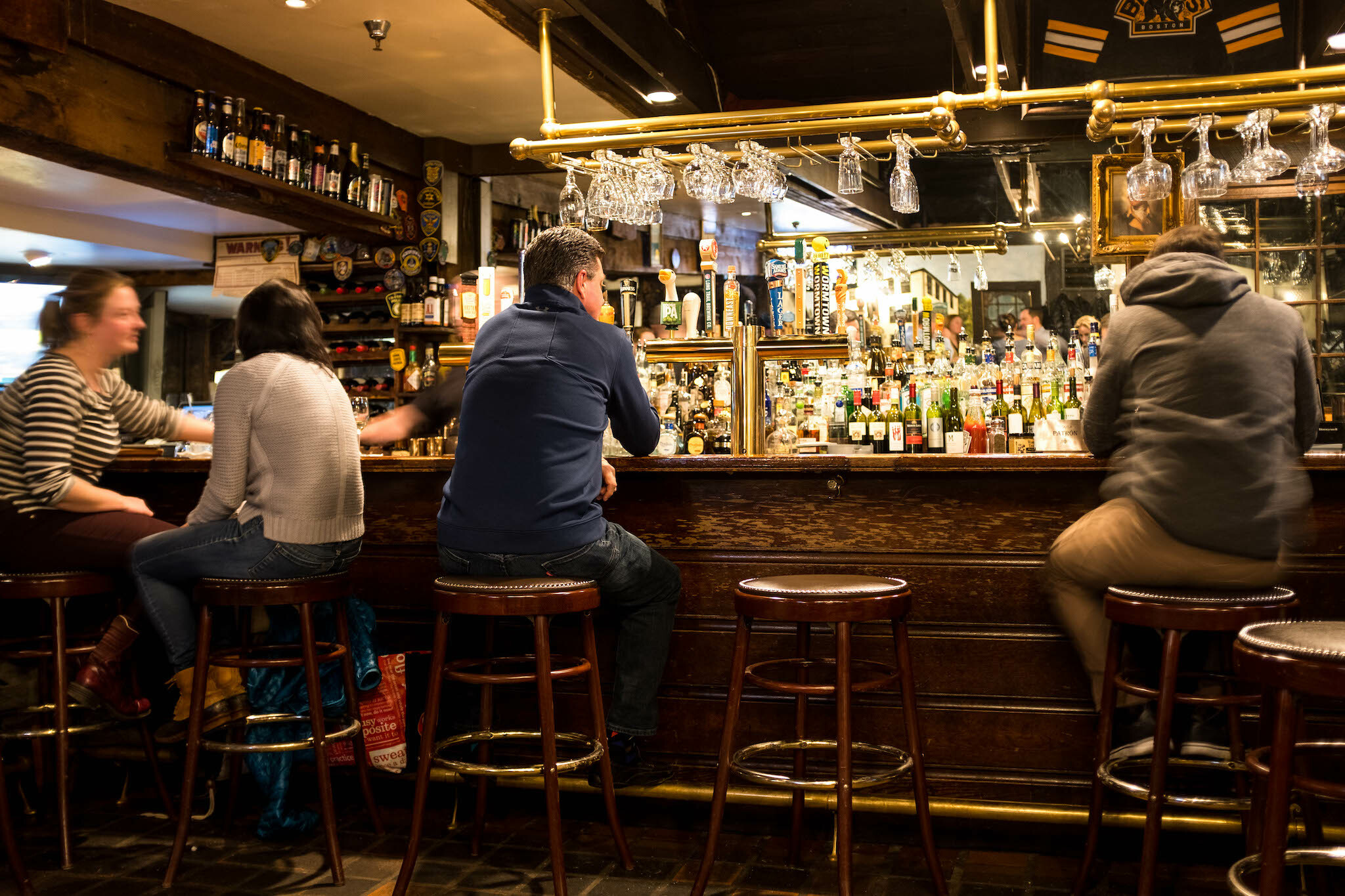 Cask 'N Flagon
Right next to historic Fenway Park, where several left-field home runs have landed after flying over the iconic Green Monster, Cask 'n Flagon Boston is located. Having originally opened in 1969, the Cask has secured its place in the history of Fenway, as many people like to name it. Called "Top Baseball Bar" by ESPN in America, it has become a tradition for all true Sox fans to stop in at this location before and after Red Sox games. With all the best American pub food, Cask 'n Flagon is full. You can grab a wing or nacho appetizer, eat a light salad, or share a pizza with friends.
Founded In: 1969
Location: Brookline Avenue, Boston
Ranking: 4
Contact: 617-536-4840
Sissy K's
Sissy K's is the busiest bar in the downtown area, a Boston Landmark for over 25 years and located inside Faneuil Hall. The company is booming 7 nights a week! College students are immediately attracted to this bar, known for its inexpensive beer and great food! Head to Sissy K's for some live music, karaoke, and dancing if you're visiting Boston and are looking for a good time! The best part is that you will enjoy all seven nights a week with these benefits.
Founded In: 1992
Location: Commercial Street, Boston
Ranking: 5
Contact: 617-248-6511
Biddy Early's
Biddy Early's, considered to be Boston's finest dive bar, is an old Financial District landmark. It's a little dive bar just a short walk from the Boston Aquarium, where you can feel the atmospheric background. In the bar's atmosphere, you can feel a sense of historical Boston with its dim lighting and dusty wood floors. While it might seem old and redundant, familiarity never changes, giving its customers a sense of Boston and a sense of home, and that's why customers keep coming back.
Founded In: N/A
Location: Pearl Street, Boston
Ranking: 6
Contact: 617-654-9944
The Landing
Known as one of Boston's finest outdoor bars, The Landing is located on Boston Harbor's Long Wharf. The Landing is the worker's go-to after-hours bar due to its location and welcoming outdoor atmosphere. If you are a student or a full-time Boston employee, there is plenty for you at The Landing. The Landing will instantly become one of your favourite bars in Boston, whether it be the harbour views, the people watching, or the signature drinkable fishbowl cocktails.
Founded In: N/A
Location: One Long Wharf, Boston
Ranking: 7
Contact: 617-227-4321
T's Pub
Within walking distance of Agganis Arena and Paradise Rock Club, T's Pub is conveniently situated, making it a perfect place to rest before or after a show. A good variety of comfort foods as well as health-conscious choices are part of a balanced menu of pub favorites. As well as a long sandwich and burger menu, T's has 7 different flavors of wings. They're open late, too, and have a couple of beers and ciders on tap. You should expect quality food that leaves you happy, whether you only want a couple of wings or a complete meal.
Founded In: 1971
Location: Commonwealth Ave, Boston
Ranking: 8
Contact: 857-302-2523
Thorntons Grille
For any college individuals raised in the Fenway area, Thorntons Fenway Bar and Grille is the perfect location. Although it is small with limited inside seating, with its offers and great food, it makes up for that. Specifically for college students, Thornton's provides offers, such as five-dollar margaritas and 25-cent chicken wings on Thursdays. Thorntons is the best pre-game bar because of this. If you're planning a party night out with your friends, then you can make a stop at Thorntons. You can grab some food, save some cash, and get yourself some cheap buzz!
Founded In: 1993
Location: Peterborough Street, Boston
Ranking: 9
Contact: 617-421-0104
Howl at the Moon Boston
The hottest bar in Boston is known as Howl at the Moon Boston. Events are always going on there. Kids from college can dress to impress, get spooky, and party with their friends all night. Howl at the Moon is popular for its endless choices of colourful drinks, close to the Tavern in the Square. You can get exclusive cocktails, flavoured cake shots, or buckets of beverages consisting of either 24 or 82 ounces of pure alcohol.
Founded In: 1990
Location: High Street, Boston
Ranking: 10
Contact: 617-292-4695