Summer is the best time for a vacation or lounge around aimlessly. Alone, or with friends and family. But summer is also an opportunity for some eager learners to learn to draw in an actual studio room. Following this, some renowned universities and institutions offer summer programs to high school students who want to focus on a particular subject apart from their high school education.
Particularly, art programs are in demand among students who like to explore their artistic abilities whenever they get the time to do so, and summer is the best possible break for them to pursue this. It is also a great chance at pursuing their higher studies if they can bag a summer program at a university or college or institute of their choice.
In the following section of this article, we have created a list of the best art programs for high school students. These programs will surely help you in making your summer productive and engage you in doing something creative. Wishing you luck for your future!
3D Art Studio at Syracuse University
This two-week program is curated for sculpture artists in need of more guidance and content and is in the pursuit of completing their arts program application portfolio. Students will spend mornings studying new methods and activities, while afternoons are spent working on individual projects in the studio and getting feedback and criticism from peers, teachers, and even professional artists. The chance that comes at the end of the program is particularly unique, at which point students can participate in curating a group show at the Sarah A. Coyne Gallery of Art. Students interested in potentially pursuing a BFA at Syracuse University School of Art will also earn one credit towards completing the summer program.
Founded In: 1831
Location: Syracuse, New York
Ranking: 1
Fees: $3,110 (residents), $2,210 (commuters)
Contact: 315-443-5000
Apply Now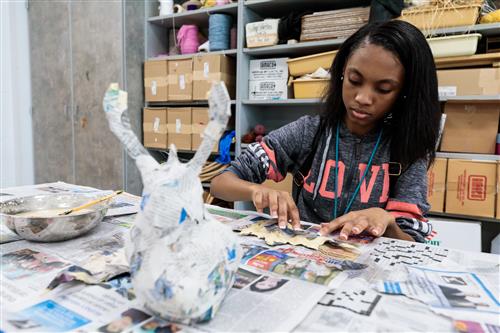 Art as Experience: Drawing and New Media Program at Cornell University
Students who love contemporary art, but do not necessarily want to concentrate on one specific medium, would love the Art as Experience pre-college summer program at Cornell University. Cornell art instructors direct and tutor students and use the expansive studios and state-of-the-art digital equipment of the campus as they study and practice a wide variety of media, including collage, drawing, digital photography, screen printing, and video installation, to name a few. A group show curated by the students of the program takes place at the end of the program.
Founded In: 1865
Location: Ithaca, New York
Ranking: 2
Fees: $6,310
Contact: 607-255-6203
Apply Now 
Summer Art Institute at UCLA
UCLA's Summer Art Institute is intended for talented and highly motivated art students to immerse themselves for two weeks in their work. Every day consists of a field trip, artist lecture, or faculty review, in addition to plenty of concentrated studio time. The curriculum culminates in a final critique at the UCLA New Wight Gallery by UCLA arts professors and an exhibition of student designs. Students have the opportunity to choose the program in the following subjects; drawing, painting, photography, or sculpture.
Founded In: 1939
Location: Los Angeles, California
Ranking: 3
Fees: $3,575
Contact: info@summer.ucla.edu
Apply Now 
BFA Preview at the University of Michigan
Supported by the Stamps School of Art & Design at the University of Michigan, this one-of-a-kind pre-college summer arts program blends the instruction and coursework of a typical summer program with the flexibility of an artistic retreat. Participating learners spend three weeks working with state-of-the-art equipment and facilities in their own studio, all under the supervision of the faculty of Stamps. Excursions to the Museum of Art of the University of Michigan, the Detroit Museum of Contemporary Art, and the Detroit Institute of Art enable students, when necessary, to find inspiration outside the studio.
Founded In: 1974
Location: Ann Arbor, Michigan
Ranking: 4
Fees: $3,500
Contact: 734-936-0671
Apply Now 
Parsons Summer Intensive Studies: New York
Arts-minded high school students may recognize Parsons as one of the world's leading names in the field of art school. Students spend four weeks at Parsons The New School for Design in New York City, taking intensive classes in this exclusive summer program, engaging in special activities, and receiving guest lectures from people who are popular in the art world. Parsons runs a similar service in Paris for those interested.
Founded In: 1896
Location: New York City, New York
Ranking: 5
Fees: $3,302 + fees
Contact: 212-229-5600
Apply Now 
Pre-College Art Experience at Academy of Art University
A top art and design school based in San Francisco, the Academy of Art University provides artistic high school students a Pre-College Art Experience every summer. Not only does the curriculum introduce students to life at a real school of the arts, but it also offers the ideal opportunity under the guidance of industry experts to establish a good portfolio. Classes can be taken online or on the campus of the Academy in San Francisco, and acting, advertising, art history, interior design, graphic design, game production, and more are included in the comprehensive list of curriculum choices.
Founded In: 1929
Location: San Francisco, California
Ranking: 6
Fees: Varies
Contact: 415-274-2222
Apply Now 
SCAD Rising Star
For those arts-inclined students, Savannah College of Art and Design is already a top school, so it should come as no surprise that they also host one of the most sought after summer arts programs before college. SCAD Rising Star is a five-week intensive program during which students participate in two courses at the college level while developing their personal portfolios at the same time. Courses in a variety of disciplines are included in the curriculum, and students can participate online or in Savannah, Atlanta, or even Hong Kong.
Founded In: 1978
Location: Savannah and Atlanta
Ranking: 7
Fees: $6,000 (offline), $4,400 (online)
Contact: 912-525-5100
Apply Now 
RISD Pre College Program
The pre-college summer arts program is billed by the Rhode Island School of Design as "six weeks that will stay with you for the rest of your life." This award-winning program is indeed, top-notch. Students reside in dormitories on campus and spend their days attending rigorous lectures, gaining useful insights from faculty and industry experts, and with plenty of studio time, of course, developing their portfolio. Students share their work at the Pre-College Exhibitions at the end of the program.
Founded In: 1877
Location: Providence, Rhode Island
Ranking: 8
Fees: $8,385 (residential), $5,625 (commuter)
Contact: 401-454-6200
Apply Now 
Summer Art Intensive at NYU
Students undergo an entire art experience in just four weeks by engaging in the Summer Arts Intensive at NYU. As they acquire firsthand knowledge of printmaking, laser engraving, 3D printing, sculpting, drawing, and much more, students have access to NYU's state-of-the-art facilities. Students will make field trips to classical institutions such as the Metropolitan Museum of Art, the Whitney Museum of Art, and the Museum of Modern Art, among others, when they are not in class. The program culminates in a gallery in the East Village with the ability for students to mount their own show.
Founded In: 1890
Location: New York City, New York
Ranking: 9
Fees: $6,250
Contact: 212-998-5700
Apply Now
Summer Art Intensive at the Cooper Union
Undoubtedly, high school students hoping to apply to an undergraduate program at a top art school would certainly find the Summer Art Intensive of the Cooper Union a worthwhile way to spend a summer. A studio concentration is selected by student artists enrolled in the program to spend two days per week. The remaining time is spent planning a portfolio, visiting major museums in NYC, and engaging in talks with resident guest artists and industry professionals. A take-home portfolio of work, a student exhibition, and a summer anthology publication eventually is the end of the program.
Founded In: 1859
Location: New York City, New York
Ranking: 10
Fees: $2,700
Contact: 212-353-4120
Apply Now